Oops! Missed posting the WEDNESDAY WICKER WISDOM yesterday, so posting about it today instead. Sorry to disappoint those of you watching for the post on Wednesday, but will make up for it by this post for sure!
Here's a wonderful television piece on Mary Dodds Schlick, Washington State basketmaker and author. Brought to you by Oregon Public Broadcast on Art Beat Oregon. Enjoy!
Mary has written several books on the Native American basketmakers. She was fortunate to learn basketweaving skills from them and is in turn, preserving their cultural heritage through the fabulous books she writes.
http://www.opb.org/programs/artbeat/segments/view/660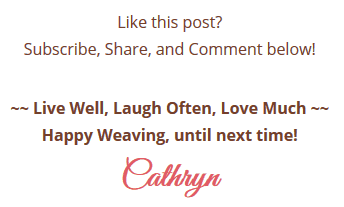 LIKE THIS POST? Subscribe to get updates!
Get access to all the weaving goodies!
Get on the Wicker Woman's Weavings list for valuable emails, blog post updates, events, hints & tips for your weaving delight!