I just posted to my Twitter account, that I had missed a good night's sleep night before last, so took some Melatonin last night and slept like a babe.
Here's proof in an article in The Huntington Post by Christiane Northrup, MD, that I was on the right track!
http://www.huffingtonpost.com/christiane-northrup/sleep-a-surprising-way-to_b_431845.html?utm_source=twitterfeed&utm_medium=twitter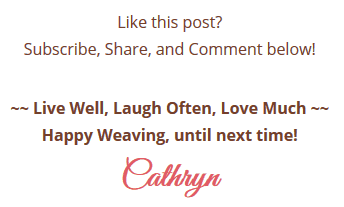 LIKE THIS POST? Subscribe to get updates!
Get access to all the weaving goodies!
Get on the Wicker Woman's Weavings list for valuable emails, blog post updates, events, hints & tips for your weaving delight!