I am frequently asked how to remove a hole cane seat, easily. So I thought that might make a good topic here on the Weavin' Wicker Woman blog.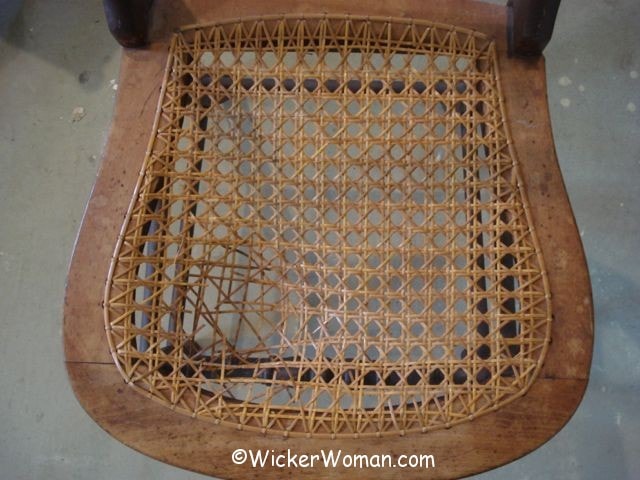 ---
This page might contain affiliate links. In the event of a sale, I will receive a small commission at no extra cost to you.
---
First thing is to assess the cane seat and take pictures
It's always a good thing to take pictures of the chair and seat before you remove anything. By taking pictures first, you can assess the overall condition of the chair itself, see if it needs regluing or has any missing parts, or needs to be refinished.
You can also examine the cane pattern to see where and maybe why it failed in the first place.  And if the weaving pattern was at fault, you will then know what "not" to do when you reweave.
Or maybe the wrong size cane was used and was too weak to support the sitter? Maybe the previous weaver didn't bevel the inside edge of the frame and the cane broke at that spot?
Next Step–Cut and remove all cane loops, strands and binder
After taking pictures and close examination of the chair is to turn it upside-down and cut the individual cane loops on the bottom of the chair seat. Be careful you don't scratch or damage the wood when you use your sharp basketry scissors or utility knife/box cutter
to do this.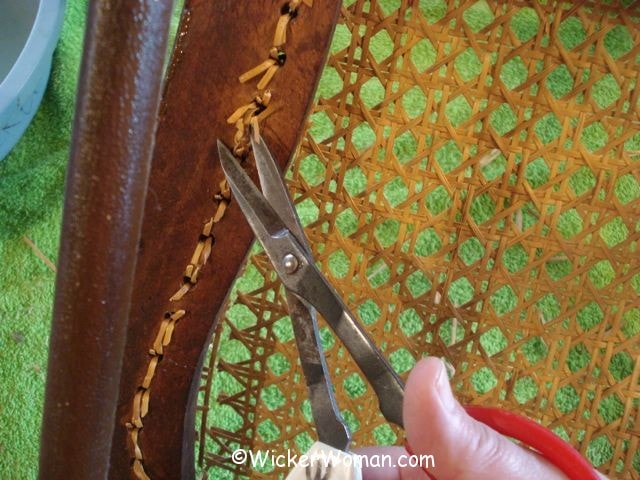 Are there a lot of knots on the underside? Then cut them off, too. Otherwise, it will make taking the strands out from the top side more difficult.
Then I turn the chair right-side up again and using either a pair of basketry scissors
(putsy and takes forever) or a box cutter/utility knife
, (faster method) I cut out the woven cane from the center of the seat.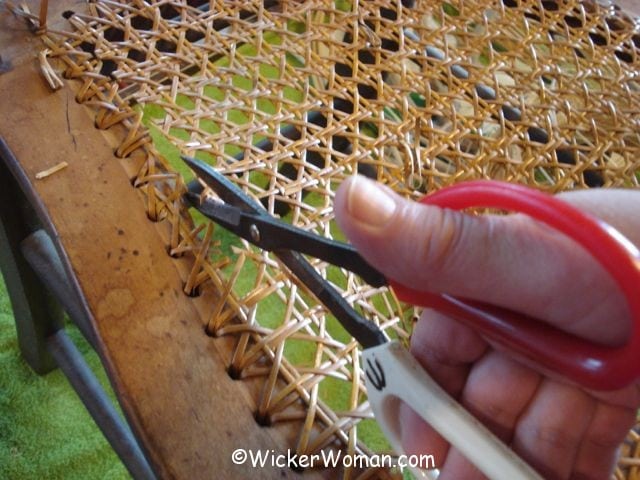 Then cut the binder cord and loops in the holes. Then with your hand, you can pull on the binder cord and most of it will come up easily.
Finally–Clean out all holes and remaining cane strands
Pick out all the remaining cane sections and binder cord from the holes using your hands and/or a pair of pliers
, don't forget to remove the cane from the bottom side also.
If you still have some stubborn cane in the holes, you can use a caning awl
, tin punch or even a drill
. Drills are especially handy if you have stubborn or glue-filled holes, to force the cane out from the top side, down.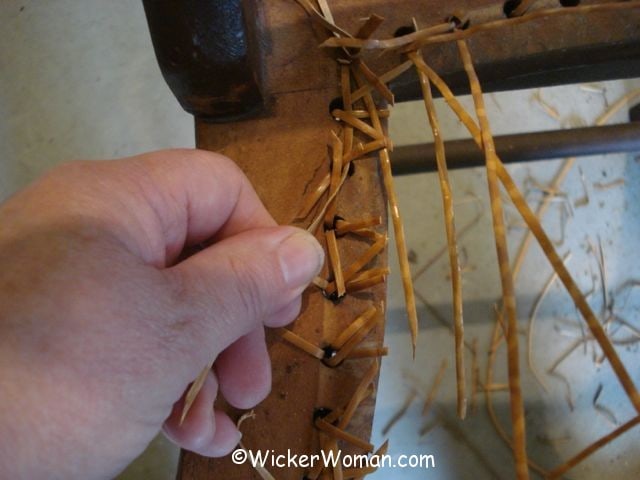 Hole-to-hole Cane Seat with Woven Cane Removed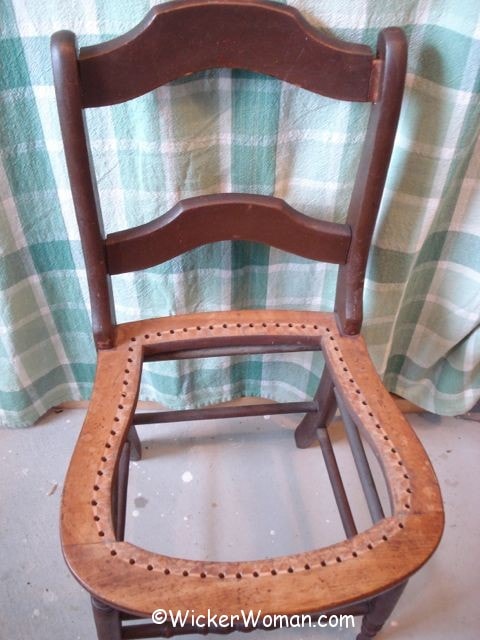 Oops!–Remember to always bevel the inside frame edge
But before you begin weaving your chair caning project, there's one more step to complete. Remember to always bevel or round off the inside frame edge using a wood rasp
, file or Stanley Sureform Shaver
tool.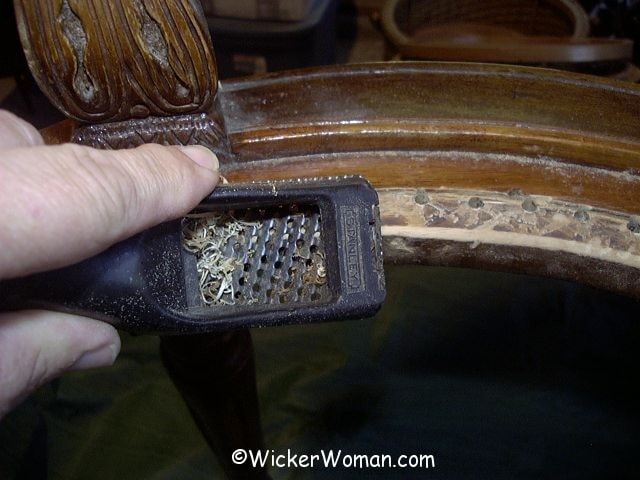 If you forget to do this step, your cane will not wear as long and might fail shortly after you've woven that brand new seat!
Here's a little Chair Caning Tip of the Day Video to see what I mean by beveling the inside edge of the seat.

All done and ready to weave that hole-to-hole cane seat!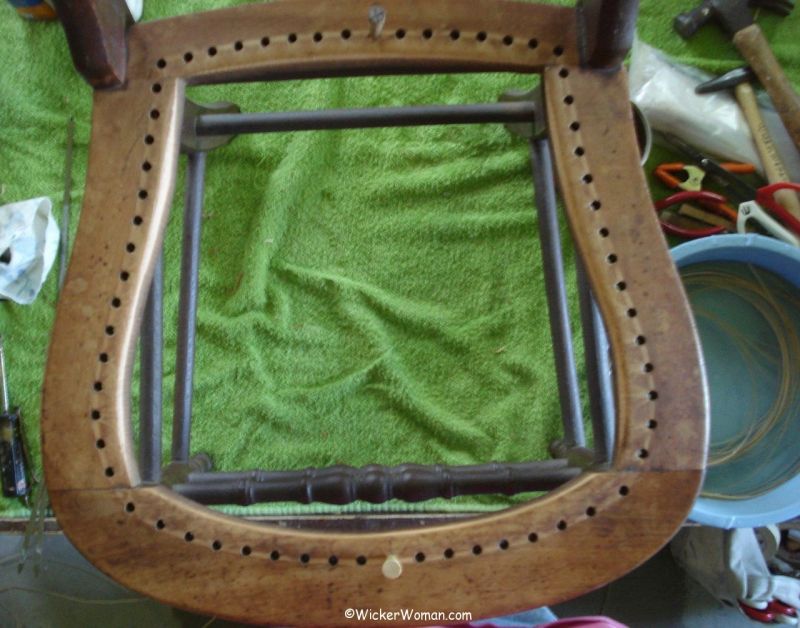 Check out the Chair Caning Instructions page for weaving that new cane seat? Enjoy! And let me know in the comment section below if you have any questions and if this post has been of help to you.