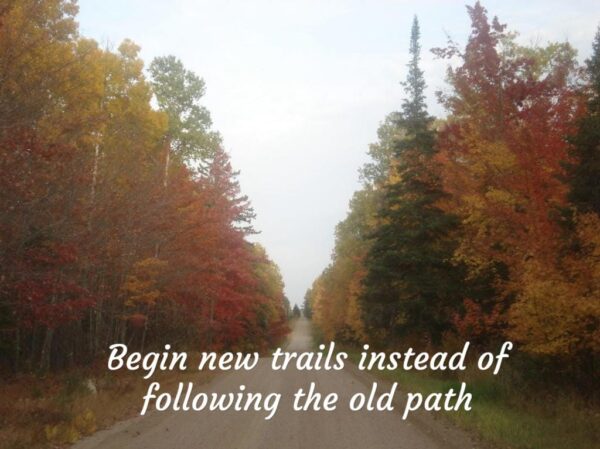 Here are some of my thoughts on blogging
these days. I'm practicing what it says in the photo above and beginning to take a slightly different trail here on the blog and also in my life.
For over a decade now, I've been posting on the Weavin' Wicker Woman Blog discussing topics that are in a very narrow niche; chair caning, antique wicker furniture, basketry and related fiber arts.
Wicker Woman Blogspot blog header circa 2004



And occasionally, I sprinkle in a post or two about wild animals, pets, things going on around the place, recipes and things going on in my family life.
Weavin' Wicker Woman blog circa 2006


But over the last few years, especially since hubby died and I now have to do EVERYTHING myself around here, I've found it very difficult sometimes to make ANY posts about ANYTHING! There are just too many responsibilities and I'm still taking time to do my grieving
and working through all the loss.
Weavin' Wicker Woman Blog circa 2010



I must have "blogger's block
" or something, even though there have been tons of things going on, I've lost the momentum of making regular posts. Maybe that's the deal, there's too much for me to do now and I have to cull out some of the responsibilities to others and focus now on what I want and need to do for my own soul and wellbeing.
I know, I know, you're saying to yourself, "She's said that tons of times before lately, claiming to change, but then nothing different happens." Right????? Or is that just the negative feedback I've been giving myself and you don't think that at all?
Weavin' Wicker Woman Blog circa 2012-2014


Most recently within the last three months anyway, I've switched hosting companies again and have begun using an entirely different theme here on the site, too. Now my site is more mobile friendly and responsive on the phones and tablets
than it was before.
I will also be changing the blog email notification provider, so you might be asked to subscribe again to the new carrier. But that's still a ways off, so don't worry.
Have you noticed the changes to the entire site and the blog? Do a little visit through the pages of the site and blog posts archives (over there in the right sidebar under "Enjoy Past Posts.") And then let me know in the Comment section below, what you think of the new look.
Now maybe all this will be enough inspiration for me to make more frequent blog posts for you to enjoy!