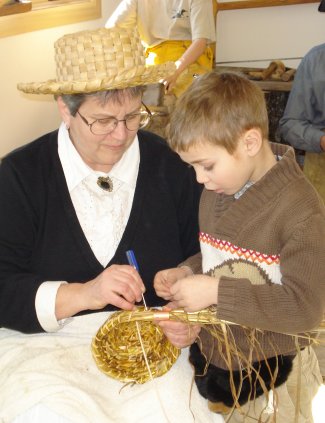 Well, the "Sugar on Snow" celebration in Beaver Bay, MN this weekend was a great success! Weather was perfect for the two-man saw contest, tug-o-war, eating the "sugar on snow" maple rock candy and watching the blacksmith work outside.
Here I am demonstrating how to weave a bee skep using oat straw, with the help of a very young aspiring basketmaker!
Inside we had candle making, broom making, soap making, carpenter, printer, dressmaker, cider press, grinding mill, carpenter, seat weaver, hat maker, bee skep weaving demonstration and many more taking place. Jot the fourth weekend in February down on your calendars for next year's celebration in Beaver Bay, Minnesota!