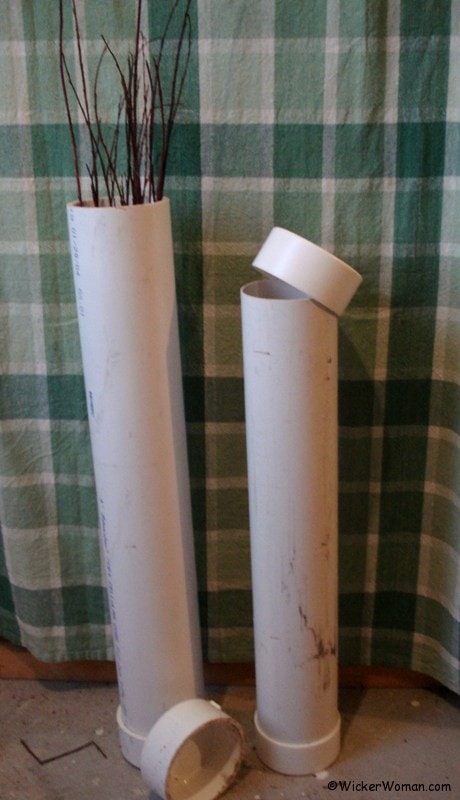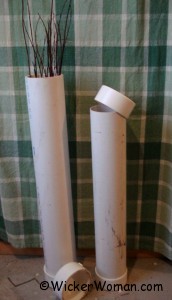 As I've mentioned on this blog several times and many years ago, PVC pipe (used for plumbing jobs) with caps on both ends, one glued and one free, works very well as a soaking tube for willow rods as well as for sheet cane or cane webbing.
If you don't have a large soaking trough (or bathtub) for your willow, or need to give a willow weaving demonstration, using a four inch diameter by five or six foot long PVC pipe filled with water works very well indeed!
You can also purchase shorter lengths for shorter lengths of willows, suited for your individual needs.
Of course, if you are transporting the 6 ft. tube, you will need a vehicle that can accommodate such length. And in case there isn't any water accessible at the demonstration area, I always bring several gallon jugs of water to fill the tube.
It's also a good idea to have your willow pre-soaked at home before actually giving the demonstration, since it can take days to soak. But many times folks like to know how you prepare the willows and this gives you the opportunity to share information and extend the demo.
If you are using the tube at home, filling the long tube from an outside faucet works best. As does hooking up a hose to the faucet that your washing machine is hooked up to.
Of course, that's presupposing you have the room to do such things in your house or studio.  And remember those long PVC tubes are heavy and cumbersome when filled with willow and the water!
PVC pipe, end caps and special PVC glue can be purchased at your local hardware store, some lumber yards, and any large home specialty store. Find them all in the plumbing department. It comes in any length you want and also comes in various thickness of the pipe and caps.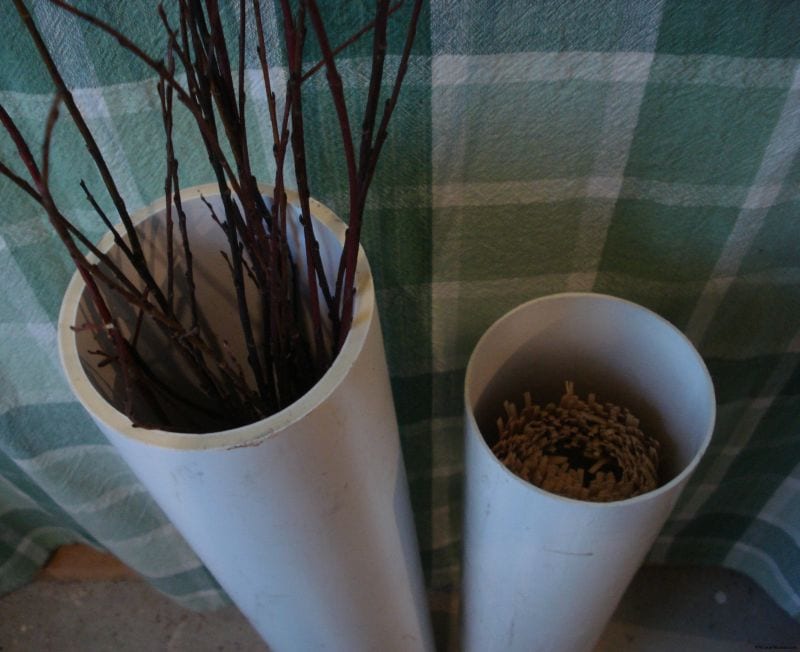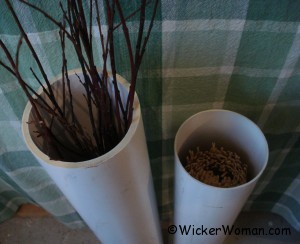 **The pictures of willow in the tubes that I'm using here in this blog post are not the correct length for the tube height and are just serving as an example of tube height ratio to willow length.
There are basically two kinds of end caps, some can be screwed on and some just slip over the end of the tube. I personally use two end caps that do not screw on, just because it's easier to remove the cap than unscrew a cap at the top. But if you were to lay the long tubes down, full of water and the willow, the screw cap might be the better choice for the top.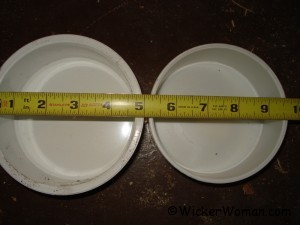 If possible, it's best to stand the tubing on end, because the willow always floats to the top of the water. And needs to be weighed down and totally submerged in the water to soak properly, surrounded completely with the water.
When you lay the pipe down, instead of standing it up, more of the willow will float to the top lengthwise and will be exposed to the air, and not submerged.
So make sure when you stand the pipe up, you also stuff the inside top end with something (thinking child's plastic ball or plastic bags wadded up and held together with duct tape) so the willows don't float to the top. Or use a shorter PVC pipe to begin with.
This PVC pipe is also an excellent way to soak chair cane webbing or sheet cane, because the whole "sheet" or piece of prewoven cane is surrounded by the water.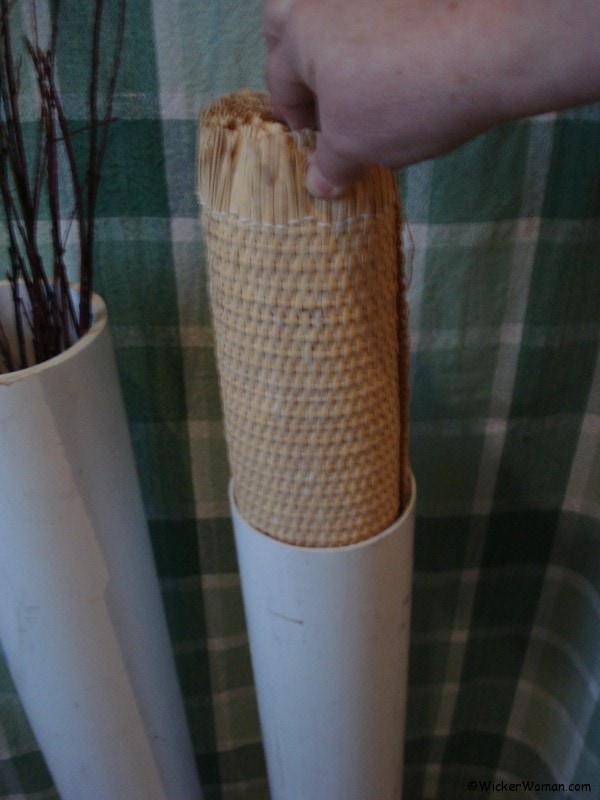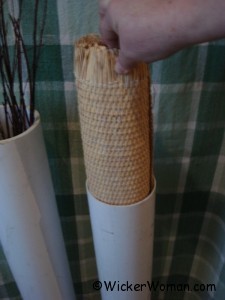 Sometimes it's just not practical to use your bathtub, kitchen sink or even a utility sink to soak your cane webbing. So these tubes make an excellent alternative that takes up very little space–only about four inches!
Just cut the caning to the size you need for repairing the chair seat, fill the tube with warm water, coil the sheet cane up slightly, stick it into the tube vertically, put the cap on and leave it to soak the recommended time for your project! Ta-da!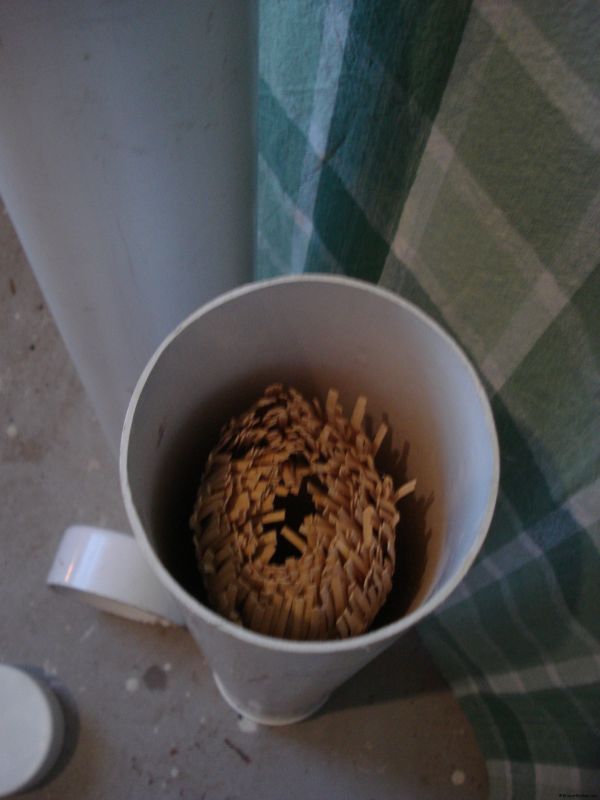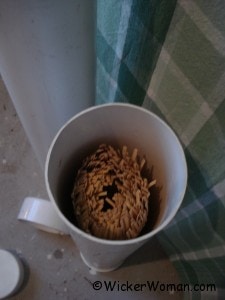 You might consider purchasing a couple different sizes to accommodate various widths of cane. Or just stick to the longest tube that will work for the widest sheet cane webbing you use.
I hope you enjoyed the latest Chair Caning & Willow PVC Soaking Tubes–Tuesday Tips blog post and will share with all your friends on Facebook and Google Friend Connect!  Happy Weaving!