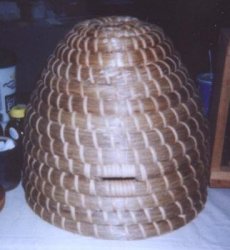 Calling all Basketmakers and Bee Keepers! This first-time North House Folk School basketweaving course blends two traditions that go hand in hand–basketweaving and bee keeping.
In the 1800s bee keepers housed their working bees in handcrafted coiled bee skeps (hives). Bring a bit of nostalgia to your home or garden by making your very own traditional rush or rye straw bee skep.
Whether you want to make your skep a conversation piece or use it as was traditionally intended for keeping your bees, this class opens the door into the traditions of basketry and bee keeping.
Along with learning the traditions of bee skep history and lore, students will learn a simple coiling technique and make their skep out of straw or cattail leaves.