Well, here it is the middle of May and this morning up here in northern Minnesota our temperature was 39 degrees! And about 8:00 am it began to rain, turning into hail, of all things! Don't that beat all? Now, at 5:15 pm, it's warmed all the way up to 50 degrees! Cool, huh? At least it keeps the mosquitoes in their place.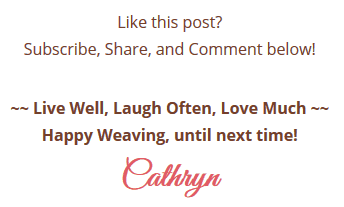 LIKE THIS POST? Subscribe to get updates!
Get access to all the weaving goodies!
Get on the Wicker Woman's Weavings list for valuable emails, blog post updates, events, hints & tips for your weaving delight!