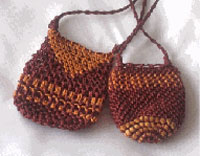 NEW AGE LOOPING
Donna Kallner
Sat & Sun May 17/18, 2008
9 – 4:30 p.m.
Looping is a living legacy from the Stone Age that contemporary fiber artists give their own spin. Learn more about this ancient craft at the instructor's web site, www.donnakallner.com and in this weekend workshop with the author of New Age Looping.
Become part of a timeless tradition as you learn basic spiral looping and techniques for stitching back-and-forth. You will also sample bead looping, several knotless and knotted stitch variations, and complex looping (which intersects with multiple previous rows). Material fee of $25 includes fibers for two small wearable pouches and additional samples, plus beads, needles, forms, and a handbook. All
levels.
CLASS CODE: 450
Student Fee $180
New Age Looping Trunk Show and Lecture
Donna Kallner
Saturday, May 17, 2008
7:30 p.m
Description: Learn about an ancient craft that continues to evolve with the author of New Age Looping. Join us for a slide program that surveys archaeological artifacts, the living traditions of indigenous people, and the work of contemporary artists – plus a guided tour of Donna Kallner's looping trunk show.
Class Code: 451
Student Fee: None (Free lecture – open to public)
click here to sign up! http://www.shakeragalley.com/pages/workshops/fiber.html (expired)