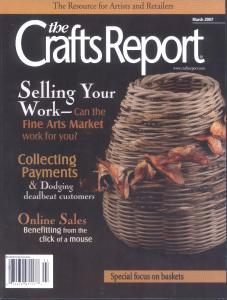 I received the March subscription copy of The Crafts Report a few days ago up here in Minnesota, (the magazine is now being published in Iowa, maybe that's why I received mine so soon), along with an extra one for a "tear sheet" for my files. It's heartwarming to see The Crafts Report presenting such excellent coverage on basketmaking, featuring so many of us in this issue.
This issue also has some really great articles for craftspeople of all kinds, concerning "Selling Your Work in the Fine Arts Market," "How to Collect from Deadbeats," "Cultivating/Making Online Sales and Gallery Exhibitions" and more.
My "Basketry Marketing Insight" along with the accompanying photo of my fallow deer antler sculpture, "Wave Deerly" was included along with the advice and photos of numerous other basketmakers.
The list includes; Pamela Zimmerman, Tressa Sularz, Kari Lonning, Diane Kennedy, Joyce Shannon, Barbara D. Francis, Jill Choate, Mr. Jim & Miss Jimmie Kent, Linda Allen, Barbara Johnson, Loretta Radeschi, Joh Ricci, and Bonnie Zirkle, all in the "Insight" section of the March issue, Special Focus on Craft!
Congratulations to the magazine for presenting such a great venue for us and to all the artists selected for the Marketing Crafts Insight: Baskets.
Linda Harbrecht did a wonderful job in her article about JoAnn Kelly Catsos in the "Insight Gained" section, too. I haven't visited the website yet this month, but I bet JoAnn is featured there too as the Online Insight Artist.
I have been a subscriber to The Crafts Reports magazine since shortly after they started in the late 1970s, when I was just beginning my chair seatweaving and basketry career. We were isolated up in Minnesota with no other basketmakers or chair seatweavers that I could share with or visit, so the magazine was a welcomed monthly arrival in my mailbox.
The Crafts Report magazine was my life-line to the art community, making me feel welcome and at the same time teaching me a great deal about becoming a self-employed craft artist. They discussed everything and still do; taxes, insurance, competitions, photography, show booths, credit cards, how to get juried into shows, retirement, how to market your artwork, etc., etc., etc. http://www.CraftsReport.com
Over the years my antler baskets have been featured several times and I have three published articles to my credit. I've watched many changes take place, including editors and now owners, but the magazine has always remained a mainstay in my personal reference library and I would NEVER be without it.
Please take a look at the website and if you'd like to peruse a copy before you commit to a subscription, go to your local library and request it. I hope everyone will subscribe and support this gem of a monthly arts and crafts publication. Whether you are a collector, artist, gallery owner, show organizer or simple crafts, this is one magazine you shouldn't be without!