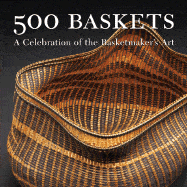 Save Money! Purchase your copy through my Alibris Books link to get your reduced price new book copy (beginning at $18.22, retail $24.95) featuring the most exquisite and fascinating compilation of baskets that has come along in many years!
Lark Books has outdone themselves by publishing this 418 page book, featuring 500 juried basketmakers from across the country, presenting a full-spectrum of the basketmakers art. 500 Baskets-A Celebration of the Basketmaker's Art
Whether you are a collector, artist, or just appreciate fine basketmaking, you will be impressed and invigorated by this display of high-caliber basket weaving!