Are you confused about choosing the right size chair cane you need for your next project?
There are a lot of different chair cane gauges and sizes used in chair cane weaving. So, selecting the right size can get a bit overwhelming.
A size too small might fail because it's not sturdy enough. But a size too large will be difficult to work with, filling the holes before you are finished with the seven weaving steps.
What's the best way to determine what size chair cane to use on your next project?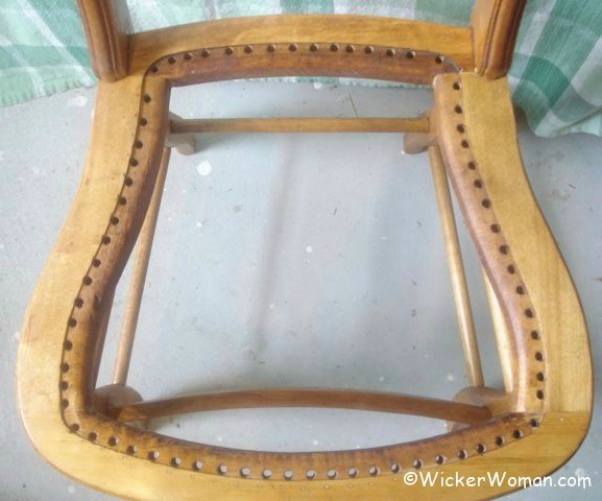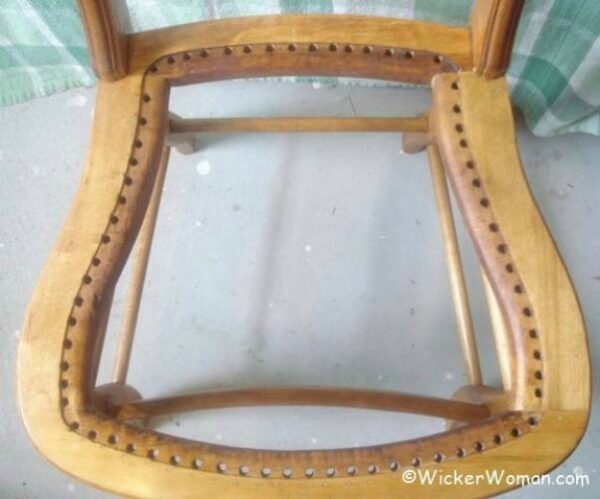 Determine the best size cane to use
The usual way to determine the best gauge of cane to use is to first measure the diameter of the drilled holes. Then measure the distance from the center of one hole to the center of an adjacent hole.
After you have both measurements, compare them using a table the supply companies have in their online catalogs.
Those tables have the correct size cane to order based on your two measurements, making it easy to place your order.
But there's another way that I'll share with you for a quick and easy method the English chair caners have been using for years and years.
I first ran across this simple way to choose what size chair cane to use when reading my 1990 reprint of the 1988 Chair Seating– Techniques in Cane, Willow, Rush and Cords by English authors and seat weavers, Kay Johnson, Olivia Elton Barratt, and Mary Butcher.
---
Several links on this website are affiliate links, which means if you click my link and then purchase an item, I receive a small commission at no extra cost to you.
---
Best Chair Caning and Seat Weaving Instruction Book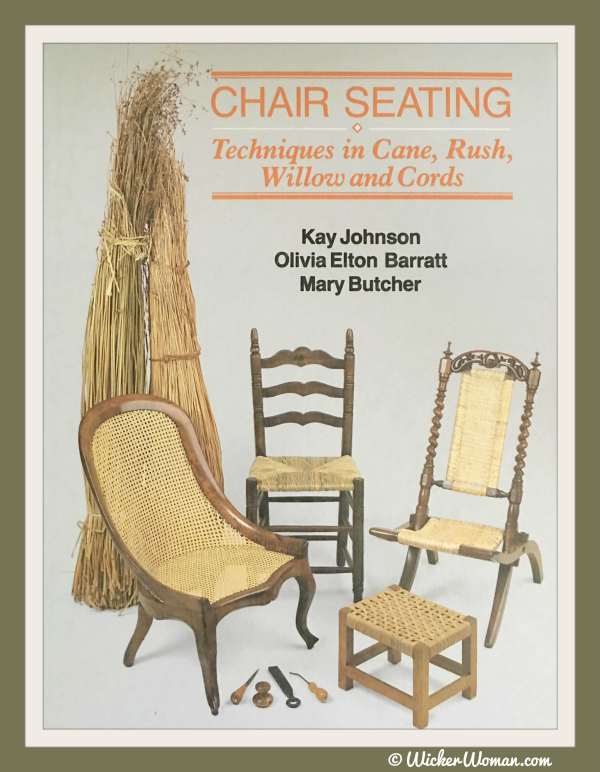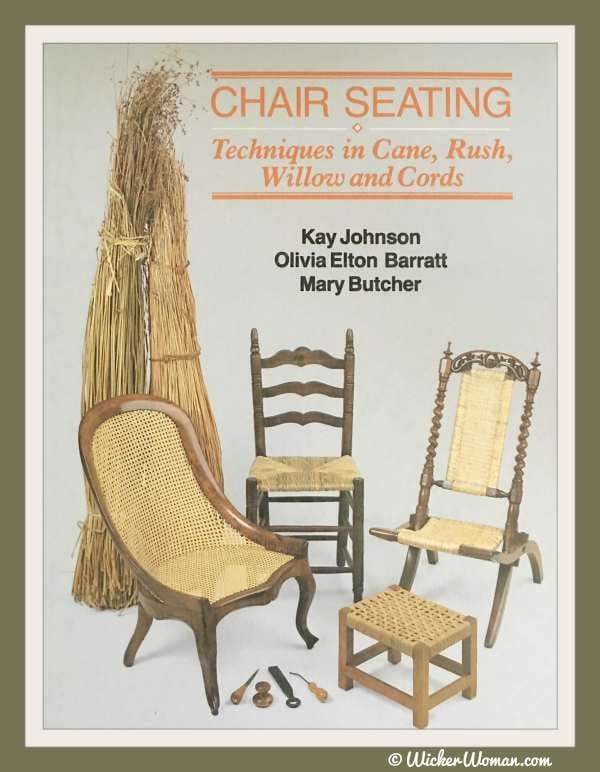 Chair Seating Techniques by Johnson, Barratt and Butcher is by far, in my opinion, the best chair caning and chair seat weaving book ever made!
It's very, very detailed in every type of chair seat weaving you can imagine and includes easy-to-understand text (although they use many English terms and the metric numbering system) with delightfully clear illustrations.
Quick and Easy Method for Correct Cane Size
As most of you caners know and as I state on the Chair Caning Instructions page, the size of cane to use in your chair caning projects depends on two things. The diameter of the drilled holes and the distance between center hole to center hole, correct?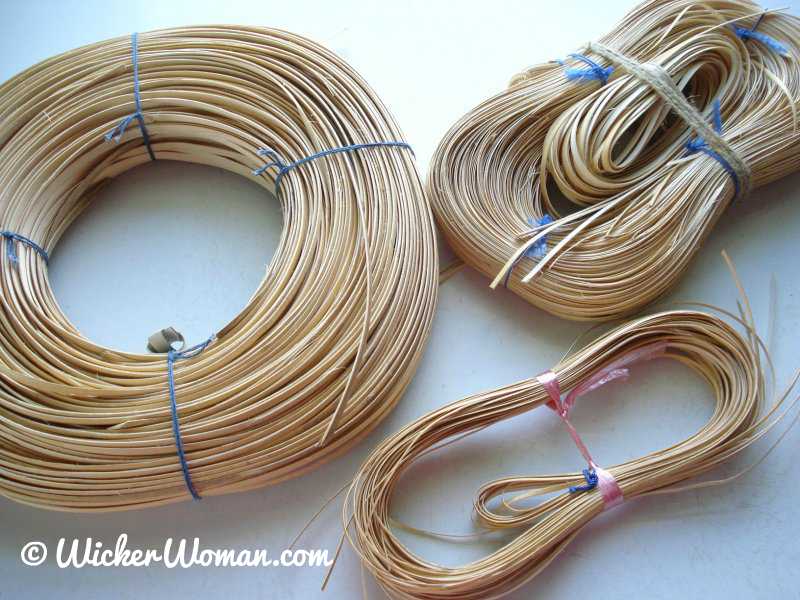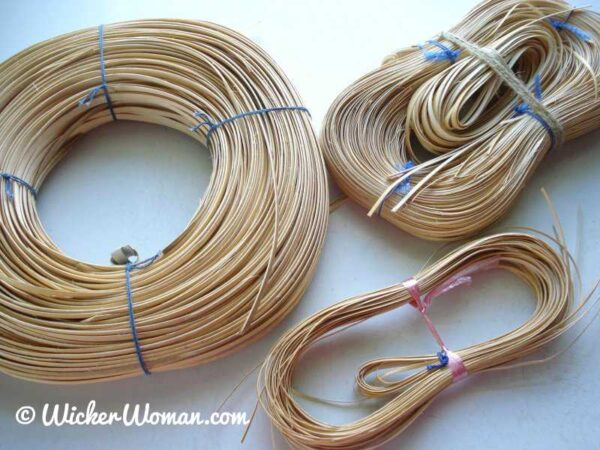 Normally after you take those measurements, you would either go to the website of your favorite cane and basket supplier and look it up on their conversion tables. Or you would consult the tables in their catalogs.
Well, now there's a much easier way to do it!
You can bypass all that fuss and calculate the easy way of finding out what size chair cane to use.
Just simply count the number of holes within a six-inch interval on the side rails!
Since not all holes are drilled a consistent and accurate distance apart, it's wise to take the measurement in several different places along the rails and then average those totals.
Quick and easy cane sizing method to memorize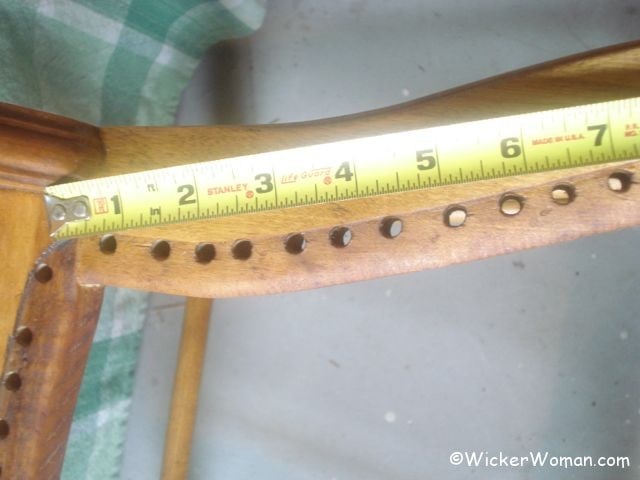 Now that you know how many drilled holes there are in the six-inch span you can use the simple, easy method below to determine the correct gauge cane to use for your project!
If a partial hole is within the measurement, then count that too. Then, for every six inches that has the number of holes below, buy the size cane listed on the right:
12 holes = Fine Fine Cane, 2.25mm
11 holes = Fine Cane, 2.50mm
10 holes = Narrow Medium, 2.75mm Cane
9 holes = Medium Cane, 3.0mm
8 holes = Common Cane, 3.50mm
The size cane you need for the binder cane would be:
Narrow Binder 4 1/2MM (5/32″) for small drilled holes and Medium Binder 5 1/2M (7/32″) for larger
What size chair cane to use? — now you know!
Memorize the table list above and you'll always know what size chair cane to use for your chair caning projects.
You'll never be dependent on those cane gauge conversion measurement tables again!
You'll be able to order the correct size cane anytime, right off the top of your head from now on!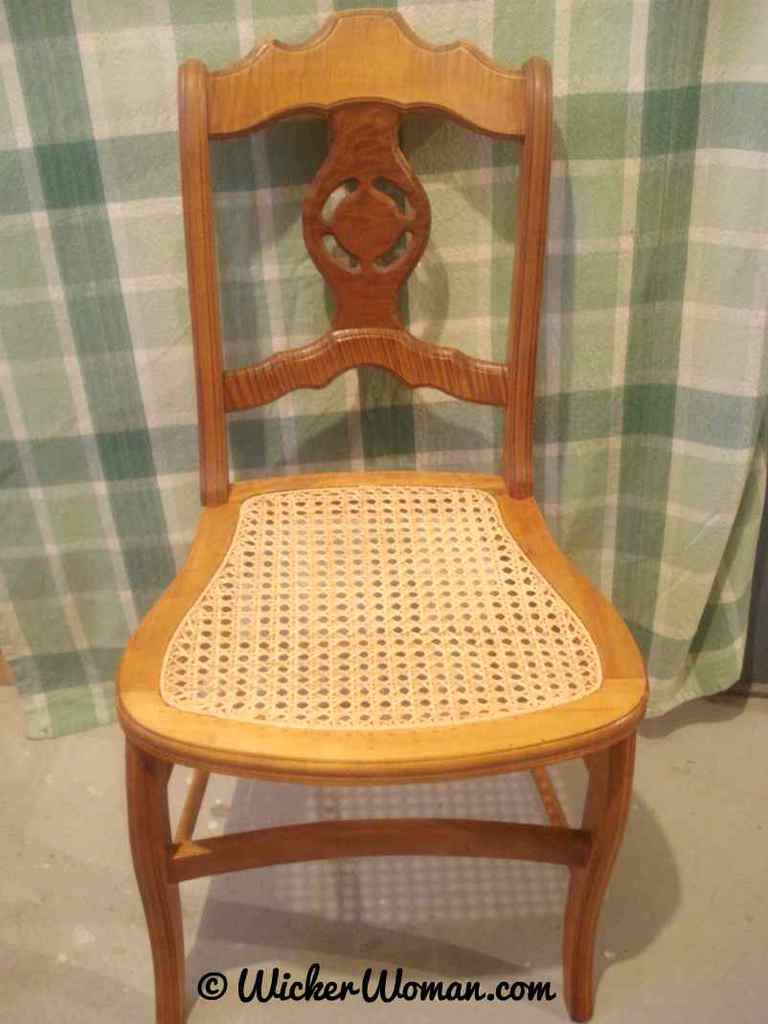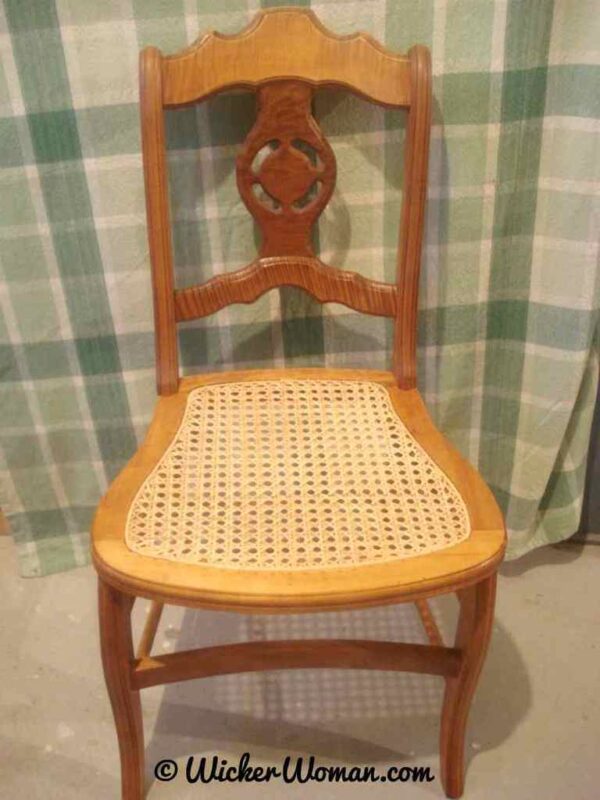 Thanks so much to English seat weavers; Kay Johnson, Olivia Elton Barratt, and Mary Butcher for writing such a wonderfully clear, easily memorizable caning-size guide for us.
I had the pleasure of meeting these fantastic and ever-so-talented ladies in 2006 when I went to England for two weeks on a McKnight Fellowship Grant.
I really wish I had thought to bring along my own copy of the book so I could get their autographs, darn.
Is this method of choosing the right size cane for your project new to you? Or are you already using this method in your weaving?

What did you think of this blog post?
Leave your comments below and share with your social networks!
~~Live Well, Laugh Often, Love Much ~~
Happy Weaving, until next time!