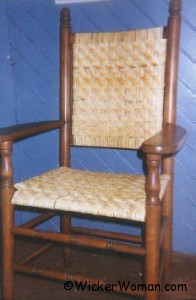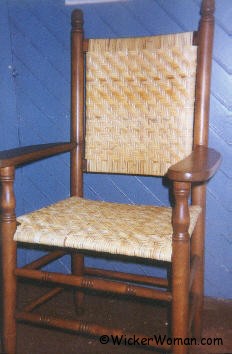 Have you ever woven on a binder cane or porch cane seat and gotten to the last few rows and found that it's nearly impossible to get those rows finished because the previous weaving is too tight?
Want to throw up your hands in disgust and you are frustrated beyond belief? Or maybe a binder cord chair has come in for repairs and the front seat dowel is so bowed (or it's broken), that it needs to be replaced? Some up-tight weaver must have woven that seat!
Have you ever seen the back of a porch cane rocker that has both sidebars so bowed that it looks lopsided and strange, contorted all out of proper shape? Read on, cuz I have the solution to your pressing problem!
WEDNESDAY WICKER WISDOM– Use tension rods on a binder cane seat
Well, here's the answer that will solve all your problems weaving that porch cane chair seat or back! Use one or two round tension rod wooden dowels when you set up your warp or foundation strands!.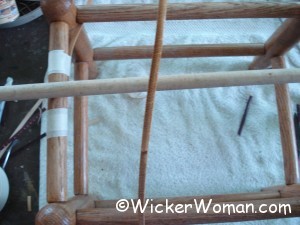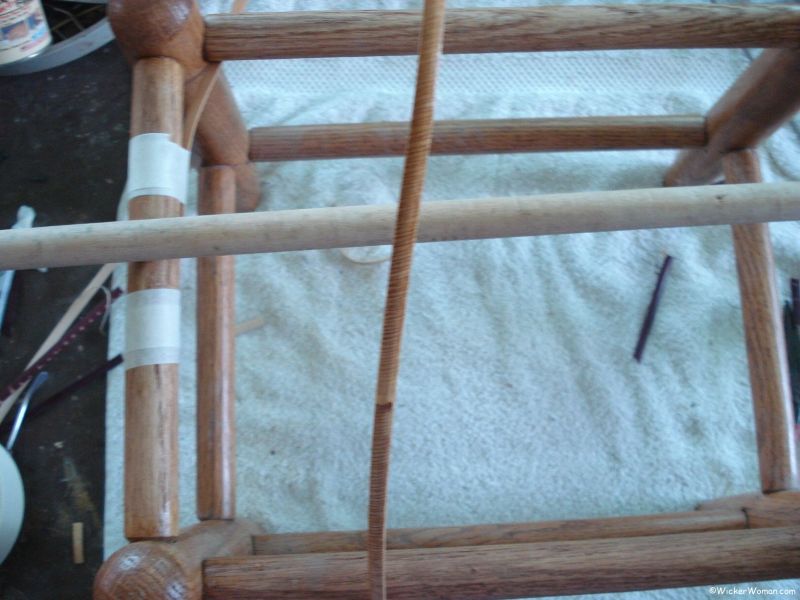 Put the wooden dowel rod (that you can purchase from any hardware store or big box store), horizontally across the center of the seat before beginning to weave.
Depending on how tight a weaver you are, you might want to use two rods that are a smaller dimension, instead of just the one.
Place one rod horizontally across the top of the seat and one across the bottom.  Attach the rods on each side outside of the stool opening, top and bottom, using twist ties.
Experiment on a few footstools before actually working on a customer's chair though, to make certain your tension is right. You don't want it too tight, nor too loose. Just like baby bear in Goldilocks, the tension should be "just right."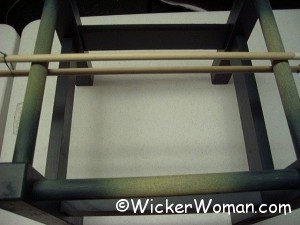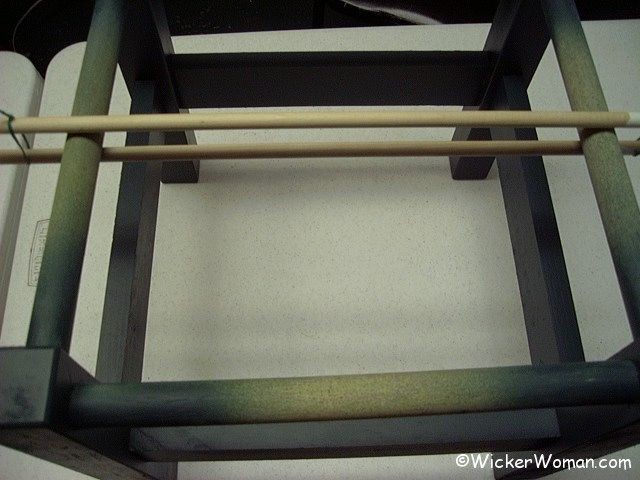 First attach a very long strand of pre-soaked wide binding cane to the inside of the left rail, using some masking tape or small upholstery tacks. Bring the strand from the bottom, around the back rail and up to the top.
Make sure the shiny, glossy "right" side is facing upward. Then begin setting up your warp or foundation strands from back to front, taking care that you are going
Then begin setting up your warp or foundation strands from back to front, taking care that you are going OVER the tension rod each time as you pull the strand toward you.
Take care that strands are butted up next to the left corner posts and are all laying side-by-side with no overlapping.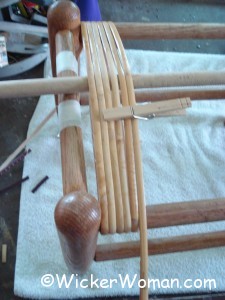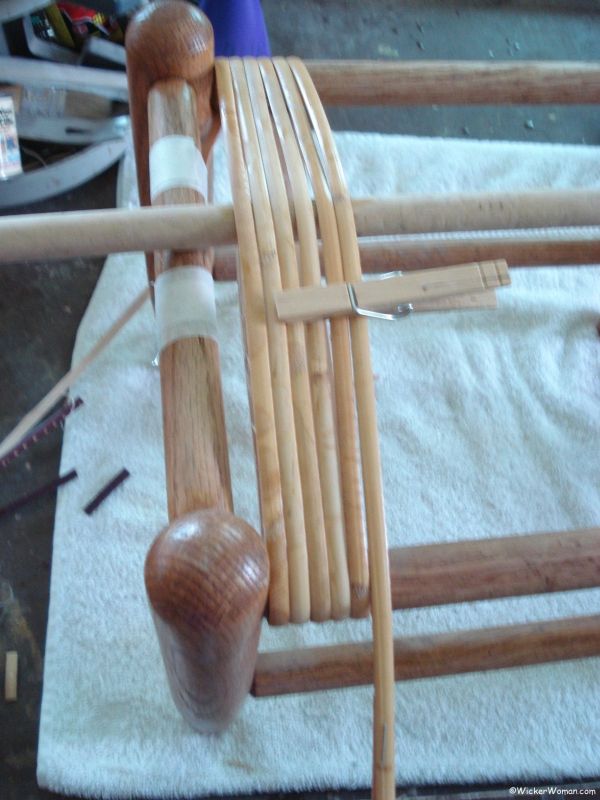 Make sure to pull the cane strands taught, but not tight as you go around the tension rod and the seat framework. Keep the tension the same each time, otherwise, you will have bulges and an inconsistent lumpy seat at the front rail.
Continue setting up your warp (vertical strands) in this manner until you have filled the seat to the right corner posts. Then begin weaving the horizontal strands, top and bottom.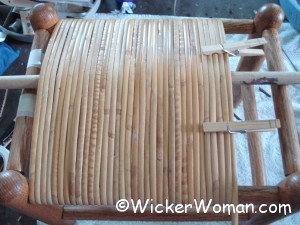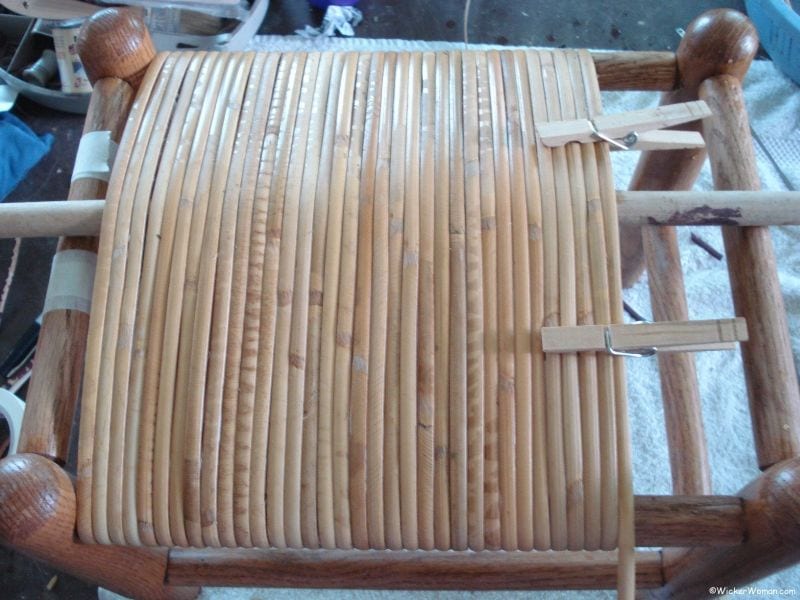 When you have woven about half way through the seat with the horizontal strands then you can pull out those tension rods. Because by then, they have served their purpose by giving you ample slack to finish weaving those last few rows without problems!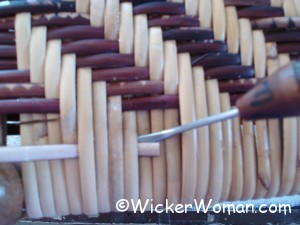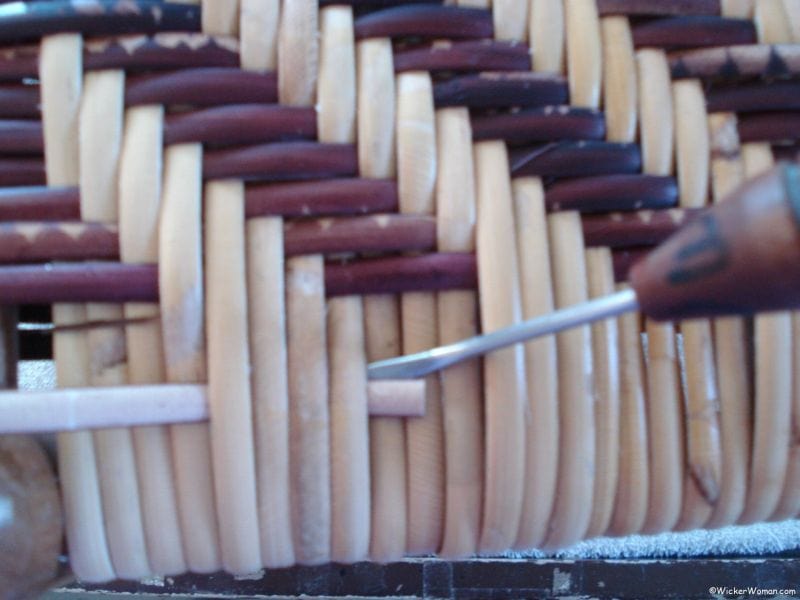 And now you can enjoy your completed wide binding cane chair or footstool, with the help and assistance of your wide binding cane tension rods. No more pulling out all your hair in frustration during the weaving process! Whaooo! You did it!
What method do you use to make the weaving easier on a similar porch cane stool or chair seat? Please leave your comment below.