Need help, have questions about a chair seat weaving technique or pattern?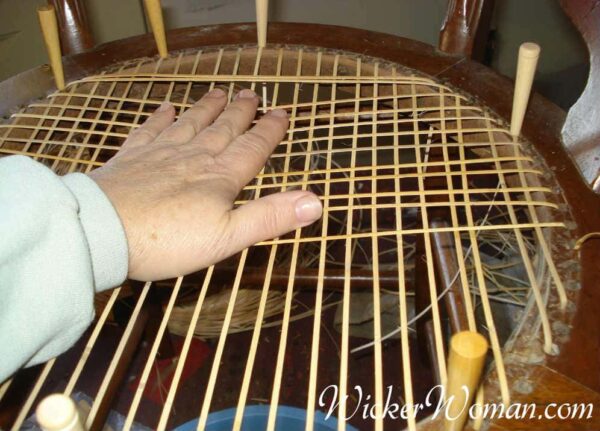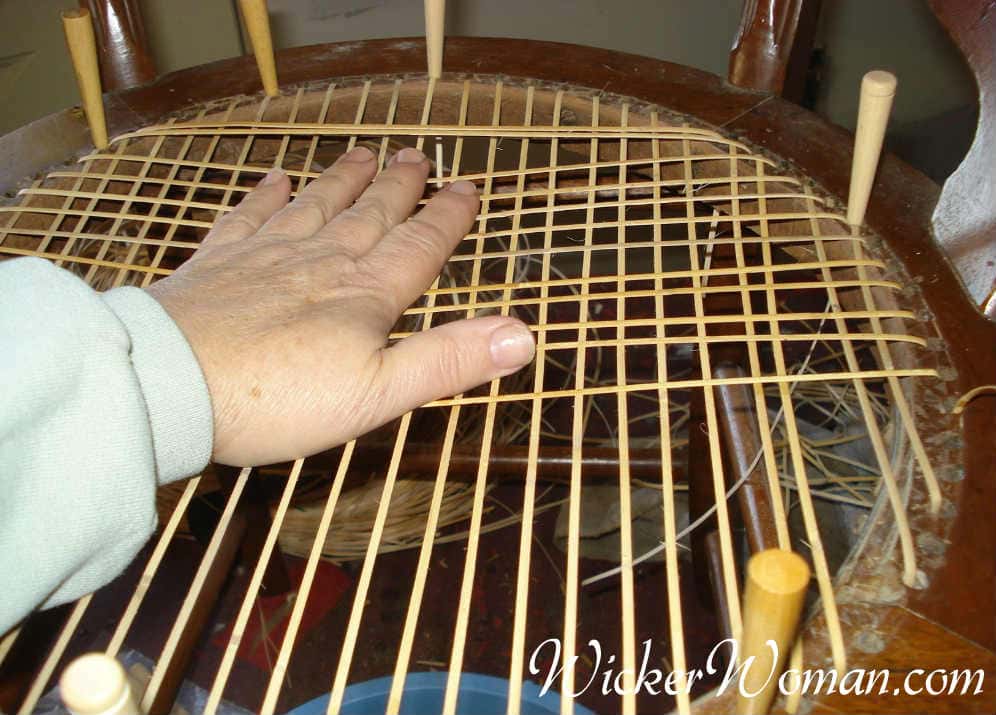 Then you've come to the right place for answers to just about all your chair seat weaving needs!
Here on the Seatweaving FAQ page Cathryn's gathered some of the most frequently asked questions from viewer's emails, blog comments and classes about chair caning and other seatweaving techniques.
You get the benefit of her help and advice accumulated through 40+ years experience in the chair caning and seat weaving repair business. Enjoy!
---
This page may contain affiliate links so when you make a purchase through one of these links, Cathryn receives a small compensation without any extra cost to you.
---
Q: What's the best way to learn how to cane chairs myself?
A: In my opinion, the best way to learn any type of seat weaving, caning included, is to take a class from an expert.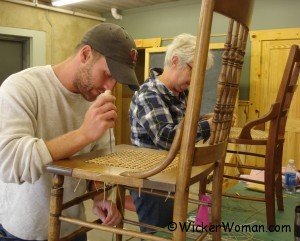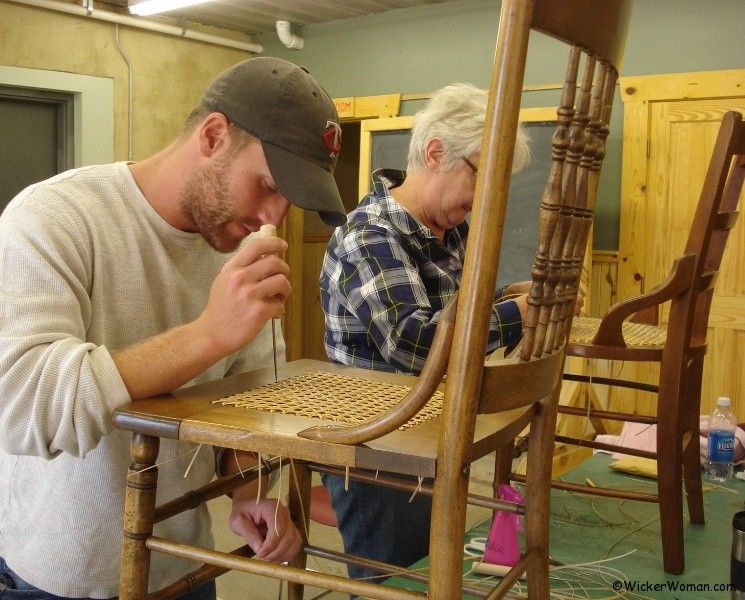 Teaching yourself through examining old chairs and learning how-to cane chairs from books and articles is also a good way.
That's how I started, but it's more difficult, takes more time, and you don't get the benefit of the mentor's years of experience.
Try to find a class through community education classes, basketry workshops, conventions or guilds, woodworking shops, and the Internet. Check out my teaching schedule to see if I will be in your area sometime soon, or you can email me and arrange a class and I'll come to you!
Be sure to also check the Folk Schools, Workshops, Conventions resource links page for a very extensive listing of classes offered across the country through different venues.
I also have many, many chair caning tips videos on The Wicker Woman YouTube Channel that will help you learn all the "tricks of the trade" and improve your product.
Watch these helpful chair caning videos right here on my site or check them out on YouTube along with all my other videos on chair caning, bulrush and cattail leaf seat weaving, antler basketweaving and more!
Q: What's the best book to learn how to weave a variety of seat patterns?
A: The listings below are my recommendations featuring excellent, excellent chair seatweaving books that should be a staple in the personal reference library of everyone that does chair seat weaving! Read WickerWoman's Amazon Book Reviews!
---
Cathryn's chair caning and wicker repair business advice appears in several arts & craft books, periodicals and on the Internet as a chair caning and wicker authority.
These fine authors either featured Cathryn's work or requested her craft and marketing expertise in the following books. Request these books at your local library or purchase online.
HOMEMADE MONEY: STARTING SMART and HOMEMADE MONEY: BRINGING IN THE BUCKS! by Barbara Brabec, 2005
YELLOW PAGES, by Ralph & Terry Kovel, 2005
THE BEST HOME BUSINESSES FOR PEOPLE 50+ by Paul and Sarah Edwards, 2004
SIX STEPS TO FREE PUBLICITY, by Marcia Yudkin, 2003
101 BEST HOME-BASED BUSINESSES FOR WOMEN, by Priscilla Y. Huff, 2002
HANDMADE FOR PROFIT! by Barbara Brabec, 2002.
PRICING GUIDELINES FOR YOUR ARTS & CRAFTS, by Sylvia Landman, 2000
SMALL TOWN MINNESOTA FROM A to Z, by Tony Andersen, 2000
SPLINT WOVEN BASKETRY by Robin Dougherty, 1999
KOVEL'S GUIDE to SELLING, BUYING, and FIXING YOUR ANTIQUES and COLLECTIBLES, by Ralph & Terry Kovel, 1995
Q: What about the holes that are drilled only partially into the frame?
A: This type of chair caning goes by a few different names; Blind Caning, French Caning, and Continental Caning. It is done using regular sized cane, woven in the traditional 7-step method design, but the holes drilled in the framework do not go all the way through.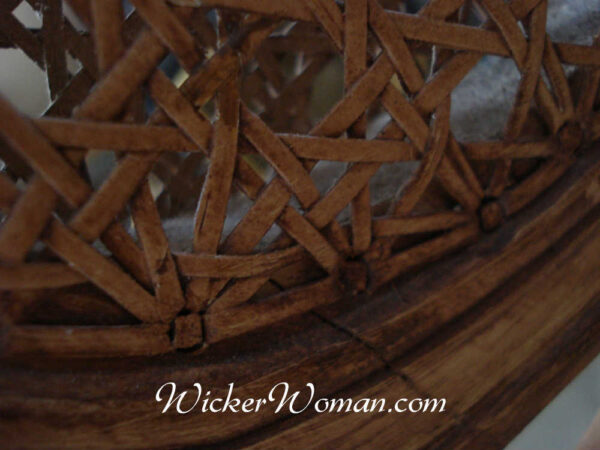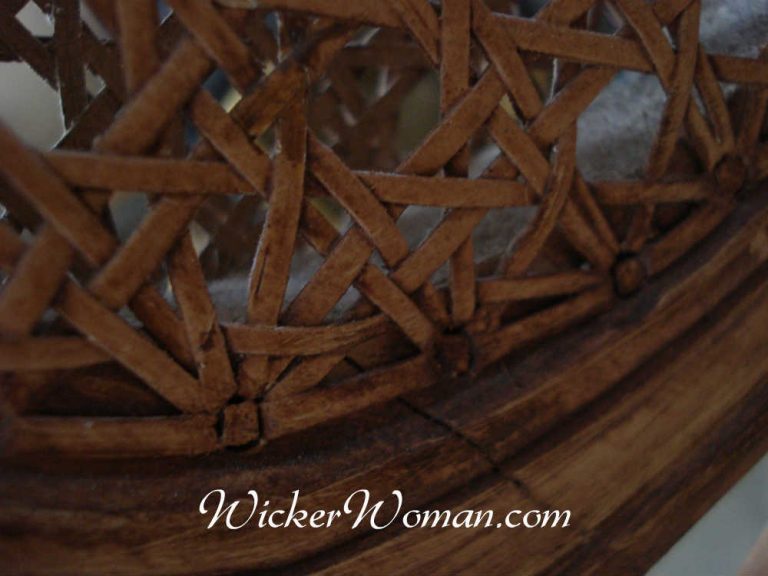 This difficult and rather delicate weave is usually reserved for use in the backs of or under the arms of chairs rather than in the seats because it's a lighter more fragile weave and not strong enough for heavy use needed in the seats.
Since the holes do not go through the frame, each length of cane must be cut to the exact length needed, then woven and fixed in the holes with a plastic or metal peg and a small spot of glue until set. Usually, only one step at a time is woven so that the glue can set, making this a very tedious job indeed. Leave this one to the experts!
For instructions to do the weaving yourself, check for the book, Chair Seating: Techniques in Cane, Rush, Willow and Cord by Johnson, Barratt and Butcher. It is by far the greatest caning instruction book and has the most thorough coverage of all types of chair seating. It's the best buy for your money, no matter what the cost!
---
Q: Can I change a spline cane chair to one with drilled holes?
A: Yes, it can be done, but I really don't recommend you change the way the chair was originally made for a couple of reasons. First would be that you might damage and weaken the chair seat frame, and second, you will destroy any antique value of the chair by altering it in this way.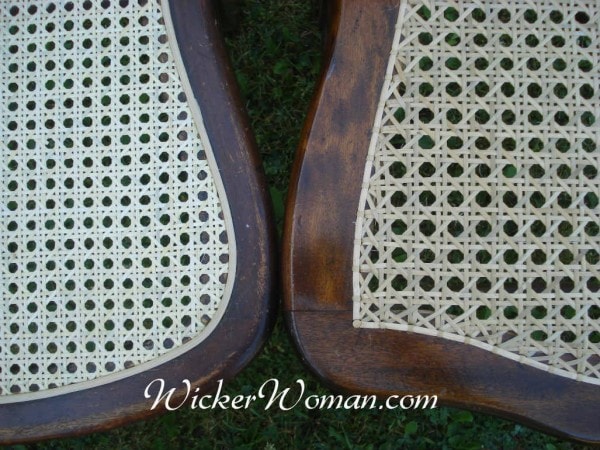 You would be far better off to ask family members if they have a chair that needs to be rewoven in the hole-to-hole method or traditional caning method or to buy one from an antique dealer or at a flea market.
The same answer would apply if you wanted to change a hole-to-hole cane chair to a spline chair with the groove. Can it be done? Yes, but not a good idea.
Q: How do I fix a sagging cane chair seat?
A: Cane is the skin or bark of the rattan palm and actually does not require much in the way of maintenance. A light spray coat of Scott's Liquid Gold Furniture Polish, mineral oil or using lemon oil will help to keep the cane flexible and will add luster to the cane seat. Don't use vegetable oil as it may turn rancid.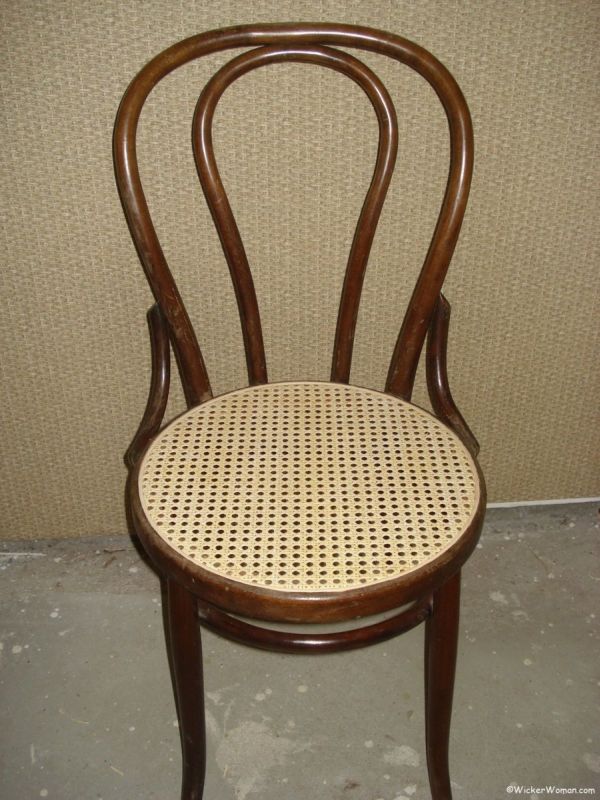 To fix the sagging cane seat: once or twice a year, you can turn the chair upside-down and lay a warm, wet cloth on the wrong side of the cane seat, being careful to not wet the wooden framework. Let the cloth dry overnight, and as the cane dries it will shrink tight, firming up the seat.
Don't allow anyone to sit on the seat until the cane is completely dry otherwise, it will stretch out of shape again! Keep in mind that this treatment will only work for about the first five years after the seat has been newly woven and will not work at all if several strands of cane are broken.
See the chair cane care tip sheet in the How-to Articles section for more hints and tips on caring for your cane furniture.
Q: How do I remove mold and mildew from my cane seat chairs?
A: Mold and mildew on cane seats can present quite a problem and removal is not always easy, or permanent. First of all, try to avoid this situation by maintaining an even humidity level with a room humidifier in the room where the cane furniture is used and or stored.
If you have high humidity, consider using a dehumidifier to protect your furniture and maintain your own comfort level. Storing cane or wicker furniture in a damp or high humidity basement or outside on a porch is just asking for trouble.
On a warm, sunny, and windy day take your chair outside and clean the cane using a soft scrub brush and a strong solution of bleach in soapy water. Take care not to damage the wooden framework with water, but if it too has mold or mildew on it, scrub it with a cloth dampened in the bleach solution to remove the mold.
Rinse the cane seat well, and leave out in the shade to dry thoroughly. And don't allow anyone to sit on the furniture until it has dried for several days. If after this treatment, you still see little black specks of mold, you might try applying full-strength bleach to each spot, using a small artists' paintbrush or a cotton swab.
Here again, be sure to rinse and dry well. Sometimes, the black mold spots cannot be removed no matter what you do, but will not be visible on the bottom side of the cane seat, at least.
Sometimes if you insist on keeping and using your cane chairs and rockers outside on your porch, you can apply a coat of spar or marine varnish to the cane (top and bottom). This will help to repel the mold, but it may also cause the cane to become dried out and brittle.
There's also the problem with the varnish not adhering well to the smooth, natural glossy finish of the cane, so it might eventually "pop" off, wear off or flake off.
Q: How do I tell paper rush seats from natural cattail or bulrush?
A: Turn the chair over and look at the bottom of the seat. Twisted paper fibre or paper rush is made in one continuous strand, so the weaving is smooth on the bottom with possibly an occasional knot or two.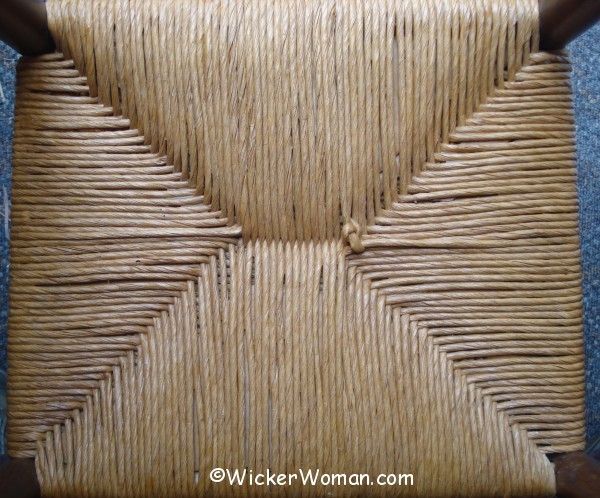 And each strand will be uniformly the same size in diameter, there are no variations with thin and fat areas of the strands like there are on the natural hand-twisted rush. The paper fibre strands can also be unraveled since it is twisted paper to begin with.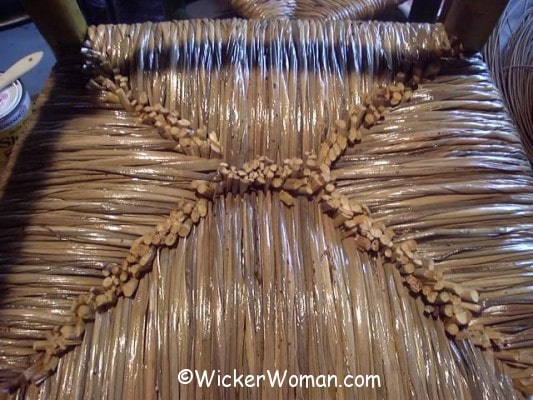 Typically the strands of cattail leaves or bulrush ends are joined in the corners, so the butt ends usually hang down about a 1/4″ at the "X" on the underside of the seat.
The cattail leaves and bulrush look similar to a grass material and are twisted together using several strands to get the rope-like appearance. And like a dried grass, when dry, they will crack, crumble and break when unraveled.
RELATED POSTS: Check the Paper Rush category on the blog to continue learning about paper rush seat weaving.
Q: How do I care for paper fibre rush seats on my dining room chairs?
A: Since these chair seats are made from the same paper fibre material that was used in a great deal of wicker furniture manufactured after 1904, the cleaning treatments are the same for both paper wicker furniture and paper rush seats.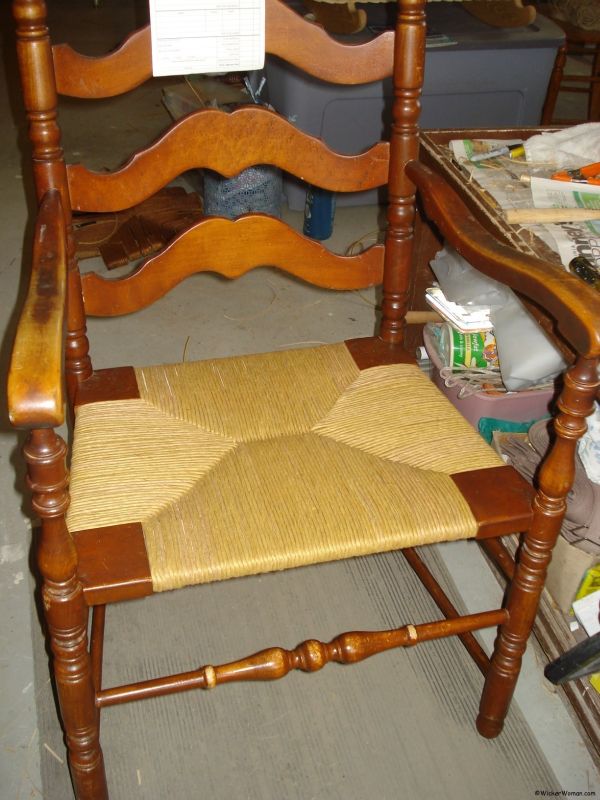 Vacuum frequently, use a damp cloth to clean stubborn dirt, and a slightly wet toothbrush to get into tight corners. Do not hose down or immerse in water, but instead use a warm wet cloth to wipe up spills as soon as they occur.
Paper fibre rush seats are usually protected by coats of varnish or shellac, which helps to prevent damages with spills and also acts as a glue, keeping the strands together. Sometimes these seats to be refreshed by applying a new coat of varnish, which can be done about every five years or sooner, if necessary.
RELATED POSTS: To find out more about paper rush seats visit the Paper Rush category on the blog.
Natural bulrush or natural hand-twisted cattail rush seats, on the other hand, are usually treated with a boiled linseed oil and turpentine mixture or shellac after the weaving is completed, but before the seat dries out. Every few years the seat can be rejuvenated by applying another coat, depending on the wear.
To care for natural cattail or bulrush seats just use a warm, wet cloth to wipe up spills and clean up dirt using a very light hand so as not to break the strands.
RELATED POSTS: Want to learn more about natural rush seats? See the Natural Rush Weaving category on the blog!
Q: Where can I buy chair caning and seat weaving materials and tools?
A: I do not sell materials to the public, with the exception of students enrolled in my classes. So you can go to the special page I set up Cane & Basket Weaving Supplies Directory™ which features over 30 cane and basket suppliers from the US, Canada and overseas.
All these advertisers have websites with mail order and will be happy to assist you in any way possible. Be sure and tell them you found their ad on WickerWoman.com!
Q: Is there an online caning group or forum I can join to feel more connected?
A: So glad you asked that question! And yes, there is a discussion group you can join, right here on the Internet.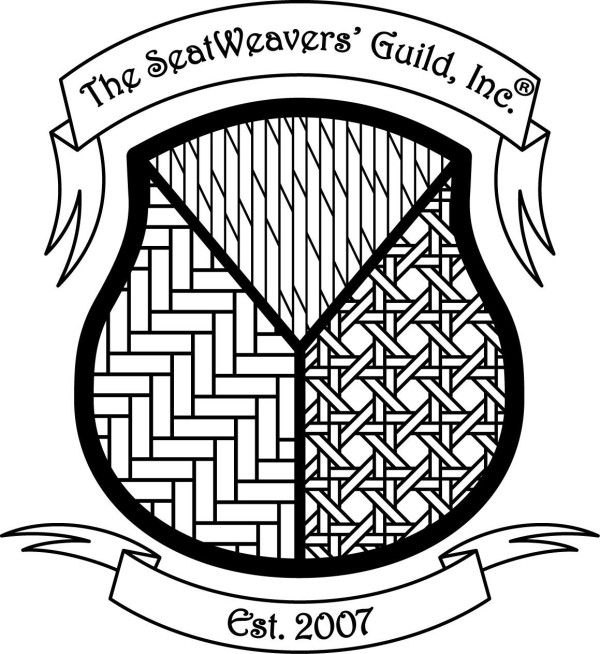 The SeatWeavers' Guild, Inc.® (TSWG), organized in July of 2007 in Nelsonville, Ohio, is the host for Cathryn's now-defunct Seatweaving & Chair Caning Forum.
The Chair Caning Forum was the only one of its kind and served seatweavers for 15 years from 2004 until the platform host, YourDiscWebApps.com, closed in 2019.
Visit TSWG website to participate in their forum and consider becoming a member of this great chair caning guild today.
Cathryn is a proud Founding Member and Past President (2007-2011) of The SeatWeavers' Guild, Inc.®
---
Disclaimer: This page was written by Cathryn Peters based on her own personal experiences and knowledge about the antique wicker and chair caning furniture industry acquired over the last 40 years of providing chair caning and wicker restoration services. Viewers may follow these directions using their own best judgment and no liability concerning your results is assumed by The Wicker Woman® or Cathryn Peters.
---
We certainly hope you've enjoyed all these FREE articles, hints and tip sheets.
Thank you for your kind support of this information resource website!