Enjoy this list of useful resource links to basketry classes, workshops, woodworking schools arts & crafts schools, folk schools, and fiber arts galleries.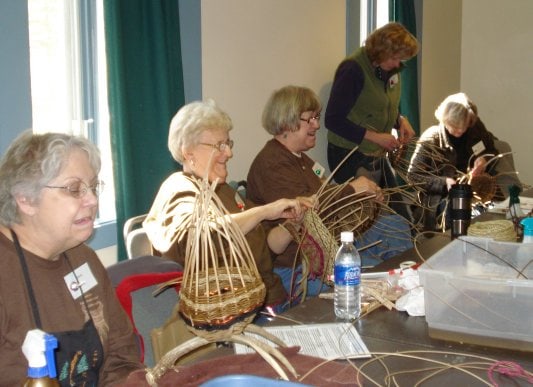 Basketry Classes, Workshops and Conventions
Wolf River Basketry Guild, WI

Missouri Basketweavers Guild, MO
WeavingintheSunshineState, FL

Willow Gathering, Decorah, IA

Great Basin Basketmakers, NV

North Carolina Basketmakers Association Conventions, NC

Willow Glen Nursery, Decorah, IA

Winter Weave Mentor, OH

Weavin' In Winona, MN

Tidewater Basketry Guild, VA

Round Hearth at Stowe, VT

Sievers School of Fiber Arts, Washington Island, WI

Shake Rag Alley, Mineral Point, WI
Driftless Folk School, Viroqua, WI

Woodlanders Online Film Series Documenting Forest Cultures

Twig Twisters, Marysville, WA

Columbia Basin Basketry Guild Retreat, OR

Northwest Basket Weavers Retreat, WA

Ancient Arts Center, OR

1880s British-American Historic Village, Rugby, TN

Handweavers Guild of America Convergence

Basketmakers' and Chairseaters' Association-England
RELATED: HOW-TO CARE FOR WICKER BASKETS-12 TOP TIPS
Fiber Arts, Folk Art, Woodworking, Arts & Crafts School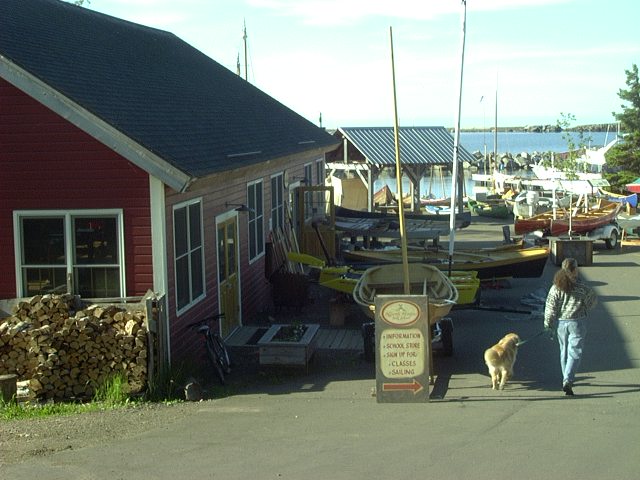 Arkansas Craft School, Mountain View, AR
Eureka Springs School of the Arts, Eureka Springs, AR
Rocky Mountain Folk School, Grand Lake, CO
Anderson Ranch Arts Center, Snowmass, CO
Ah Haa School for the Arts, Telluride, CO
Brookfield Craft Center, Brookfield, CT
Marc Adams School of Woodworking, Franklin, IN
Vesterheim Folk Art School, Decorah, IA
Legacy Learning Boone River Valley, Webster City, IA
The Woodworking School at Pine Croft, Berea, KY
Snow Farm Craft, Williamsburg, MA
Center for Furniture Craftsmanship, Rockport, MA
Textile Center of Minnesota, Minneapolis, MN
North House Folk School, Grand Marais, MN
Grand Marais Art Colony, Grand Marais, MN
Marine Mills Folk School, St. Croix, MN
Center for Crafts, Asheville, NC
Silver River Center for Chair Caning, Asheville, NC
John C. Campbell Folk School, Brasstown, NC
Penland School of Crafts, Penland, NC
Poplar Grove Plantation, Wilmington, NC
Peters Valley Craft Education Center, NJ
Adirondack Folk School, Lake Luzerne, NY
WildCraft Studio School, Portland, OR
Touchstone Center for Crafts, Farmington, PA
Arrowmont School of Arts & Crafts, Gatlinburg, TN
Vermont Woodworking School, Cambridge, VT
Waterford Craft School, Waterford, VA
The Fletcher Farm School of Arts and Crafts, VT
Bainbridge BARN, Bainbridge, WA
Port Townsend School of Woodworking, Port Townsend, WA
Madeline Island School of the Arts, La Pointe, WI
Shake Rag Alley, Mineral Point, WI
Peninsula School of Art, Fish Creek, WI
Driftless Folk School, Viroqua, WI
Sievers School, Washington Island, WI
Folk Lore Village, Dodgeville, WI
RELATED: Basket Guilds | Basket Associations | Weavers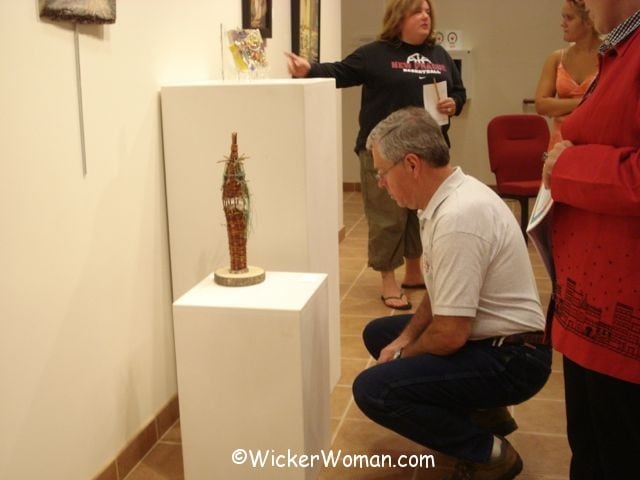 Art Galleries Featuring Basketry and Fiber Artists
The Edge Center Gallery, Bigfork, MN
Artistry Theater and Visual Arts, Bloomington, MN

Finnish American Folk School, Hancock, MI

Tory Folliard Gallery, Milwaukee, WI

The Phipps Center for the Arts, Hudson, WI

Seasons Gallery, Hudson, WI

Northwoods Friends of the Arts, Cook, MN

Duluth Art Institute, Duluth, MN

Lyric Center for the Arts, Virginia, MN

MacRostie Art Center, Grand Rapids, MN

Renwick Gallery, Washington, DC

Eiteljorg Museum of Native American and Western Art, Indianapolis, IN

Houston Center for Contemporary Crafts, Houston, TX

Thank you so much for visiting the resource links page of WickerWoman.com!
If you found this page helpful, please consider a donation! Every little bit helps keep this website free for all to view!
Please SHARE with your social networks. Just click the buttons on the left sidebar and right below, and encourage your friends to visit, too!