Cathryn's Classes & Exhibition Schedule

2017 Weaving & Exhibit Calendar
Instructor and Basketmaker Cathryn Peters teaches antler basket classes, chair seat weaving classes around the country at basket guilds, folk schools, woodworking schools, and small group classes. You can also see her contemporary Antler Basket Sculptures at galleries, exhibitions, and juried shows. Be sure to check the Fiber Arts Events Calendar for other basketry and fiber arts happenings.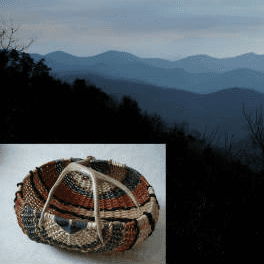 March 9 – April 1, 2017
Natural Ranges: Photography of the Appalachian Trail & Antler Basketry of Northern Minnesota Exhibition
Photography by Jill Aubin and Antler Baskets by Cathryn Peters
View Details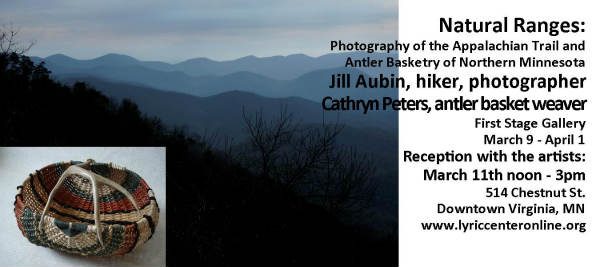 Facebook–Lyric Center for the Arts
First Stage Gallery
514 Chestnut Street
Virginia, MN
Gallery Hours: Thursday – Saturdays 11am – 3pm
April 21, 22, &23, 2017
WEAVIN' UP NORTH WORKSHOP
Headwaters Basketmakers Guild Workshop
View Details
Concordia Language Village
Bemidji, MN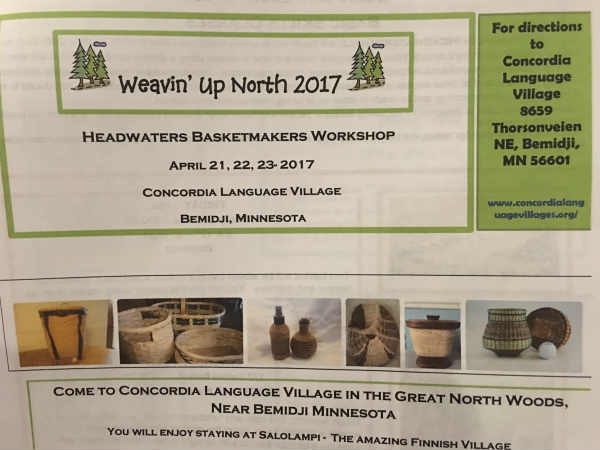 Teachers are: Cathryn Peters, Annetta Kraayeveld, Jill & Paul Scarpari, Pam Talsky,
Shirley Mount and Eileen Spilman with special guest teacher, Tressa Sularz
Cathryn's Classes
Friday: Braided God's Eye Melon Basket
Saturday: Hot Pocket Antler Wall Pocket
Sunday: Fancy Rim Potato Masher Basket
May 1-30, 2017
10th ANNUAL LITTLE BIG SHOW EXHIBIT & SALE
MacRostie Art Center, Grand Rapids, MN
View Details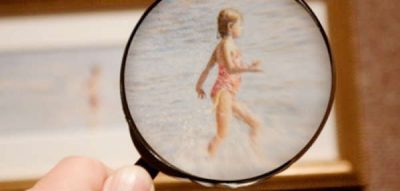 10th annual miniatures exhibition in the MacRostie Art Center Minnesota Gallery.
The exhibition will feature small works in a variety of media. Artists may submit only one piece.
Works must be no larger than 12" in any dimension (including frame)
with a maximum retail price of $100.
The First Friday Opening Reception is May 5th from 4-7pm.
Cathryn's show entry is an antler wall pocket basket.
MacRostie Art Center
405 1st Avenue NW
Grand Rapids, MN 55744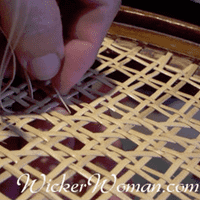 June 30 – July 2, 2017
CHAIR CANING FOR THE VINTAGE CHAIR
North House Folk School, Grand Marais, MN
View Details
Do you have an old family heirloom or a chair you'd like to refurbish and learn how to reweave the cane seat on it, but don't know how?
Bring your chair with drilled holes in the seat frame to North House and spend the weekend on the lovely North Shore of Lake Superior.
Learn the art and craft of chair caning in a relaxed atmosphere, all the basics and tricks of the trade from veteran instructor Cathryn Peters.
North House Folk School
On the Harbor
Grand Marais, MN 55604
1-888-387-9762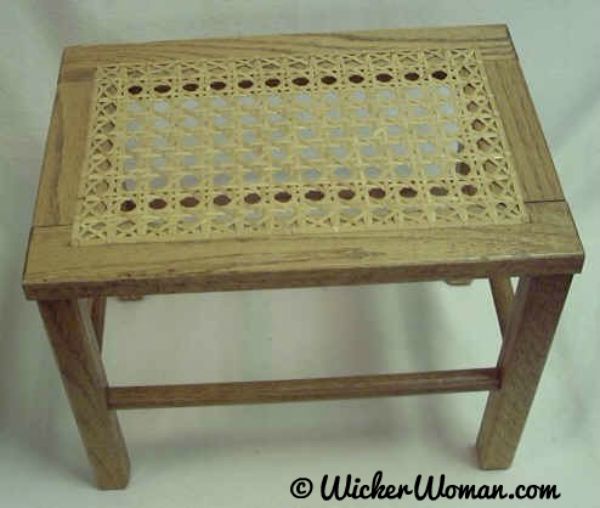 June 24, 2017
HOLE CANE FOOTSTOOL
Ely Folk School, Ely, MN
July 14-15, 2017
ANTLER BASKETRY WORKSHOP
North House Folk School, Grand Marais, MN
View Details
Spend two and a half days of relaxing antler basket weaving with instructor Cathryn Peters.
Learn the ins and outs and tricks of the trade for creating a deer antler wall pocket basket of your very own!
Antlers will be pre-drilled with primary ribs inserted, but you'll do all the creative and hard work yourself!
We'll also do some hands-on drilling and design planning before weaving starts.
North House Folk School
On the Harbor
Grand Marais, MN 55604
1-888-387-9762
August 19-20, 2017
TRADITIONAL PAPER FIBRE RUSH SEAT WEAVING
North House Folk School, Grand Marais, MN
View Details
Have you ever wondered how those seats are woven, you know the ones,
with the four triangular sections that meet in the center?
Maybe you have a set of chairs like this and want to fix them, but don't know where to start?
Well, now you can reweave the rush seat and pick up skills to maybe even go into a sideline business of chair seat weaving!
Take Cathryn's class and learn a new craft, become a chair seat weaver in no time.
Don't have a chair to bring to class? Then purchase one from instructor and you're all set.
Traditional Paper Rush Seat Weaving
North House Folk School
On the Harbor
Grand Marais, MN 55604
1-888-387-9762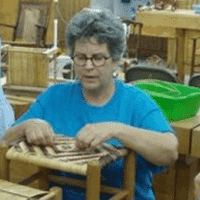 SEPTEMBER 16 & 17, 2017
WEAVING SEATS: TRADITIONAL TECHNIQUES with CANE
MARC ADAMS SCHOOL OF WOODWORKING
View Details
Want to learn how to supplement your retirement income,
furniture making or refinishing business by offering chair seat weaving, but are afraid to try?
Well, here's your chance to test the waters and learn all about the two most
popular and traditional types of chair caning techniques.
Take Cathryn's weekend course packed with a bit of history on the craft of chair seat weaving.
Coupled with a special emphasis and hands-on experience weaving footstools
with hole-to-hole cane and wide binding cane, you'll be well on your way!
Weaving Seats: Traditional Techniques With Cane
Marc Adams School of Woodworking
5504 E 500 N
Franklin, IN 46131
Phone: 317-535-4013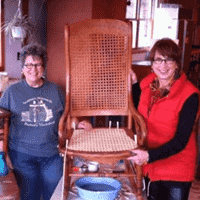 OCTOBER 13, 14, 15, 2017
TRADITIONAL HAND CANING for the VINTAGE CHAIR
North House Folk School, Grand Marais, MN
View Details
Bring your broken seat chair to learn the age-old craft of traditional hand or lace chair caning with instructor Cathryn Peters.
You'll be able to use your chair again and pick up a new craft business at the same time!
Whether you're a stay-at-home-mom, retiree or just want to learn an old-time craft, this is the class for you!
 
Traditional Cane Seat Weaving for the Vintage Chair
North House Folk School
On the Harbor
Grand Marais, MN 55604
1-888-387-9762
Thanks so much for your interest in Cathryn's Class Schedule, you might also like to visit these pages for Cathryn's Antler Basket Artistry and Antler Basket Patterns in case you'd like to try your hand at weaving your own antler baskets!
Get access to all the weaving goodies!
Join this Weaving Community list for valuable emails, blog post updates, events, hints & tips for your weaving delight!