What really is "wicker furniture" and what do those words encompass? The word "wicker" is used to describe any woven furniture (or basket) that's made with pliable materials.
Some of those materials might be rattan reed, willow, paper fibre rush, cane, or grasses, and most recently plastic or resin strands. But many times "wicker" is mistakenly thought of and referred to, as an actual plant or material itself.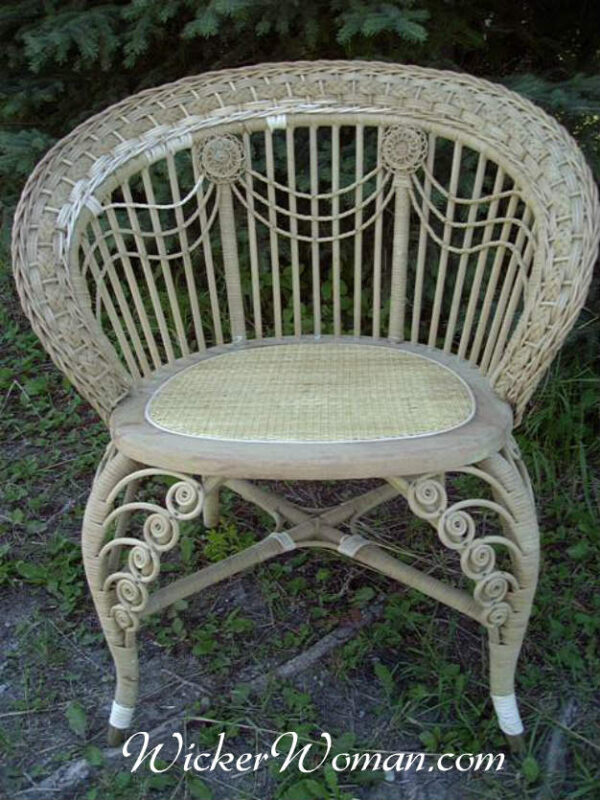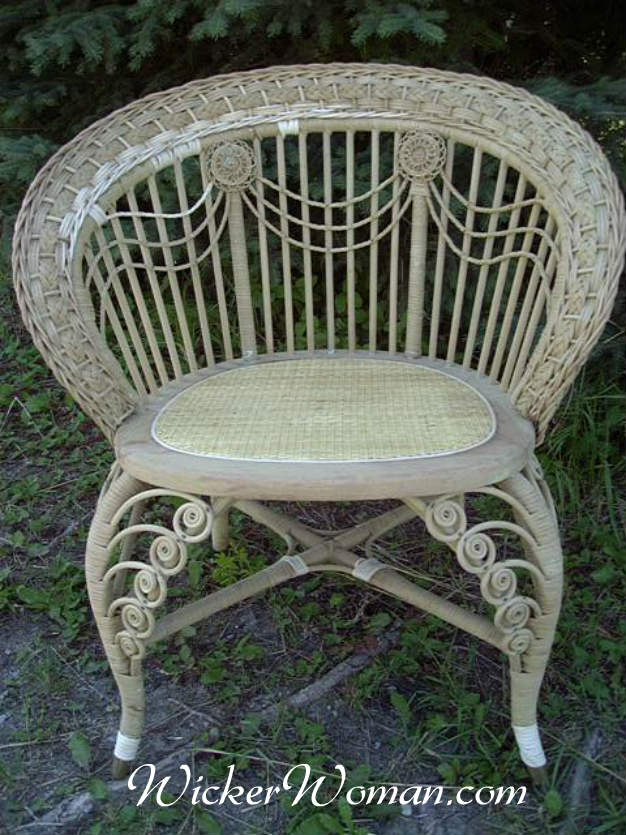 Antique Wicker Furniture Basics
The word "wicker" actually refers to the "act of weaving" with pliable fibers. Or, it's the final woven end product such as a wicker table, chair, couch, lamp, or buggy, but it is not an actual weaving material. There is no such thing as a true material or plant called wicker.
Frequently any type of round plant material such as willow or round rattan reed is referred to as having a "wicker weave" though.
RELATED: Materials Used in Antique Wicker Furniture
Most antique wicker furniture is totally woven using either rattan reed or paper fibre rush on hardwood steam-bent frames.
---
This page may contain affiliate links. When you make a purchase through one of these links, I receive a small compensation without any extra cost to you.
---
Aren't Wicker and Cane the same thing?
The kind of antique totally woven wicker furniture referenced above is not to be confused with "cane" seat chairs like the one pictured below.
This chair is made entirely of wood with a handwoven hole-to-hole cane seat applied to the seat frame.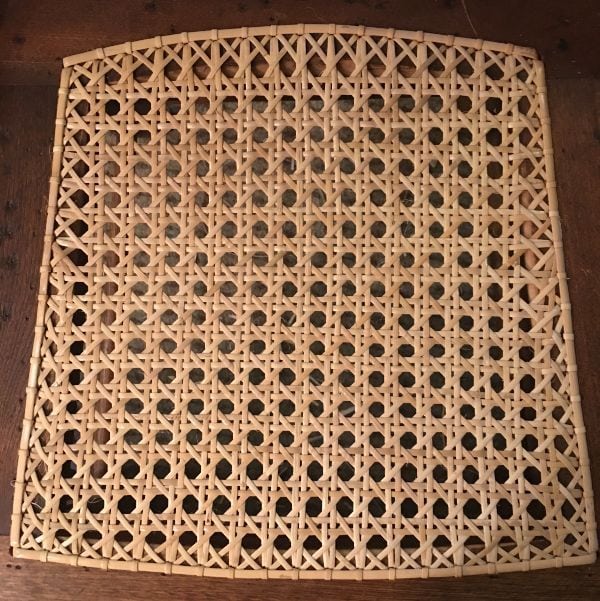 It is frequently referred to as a "wicker seat" by the general public, but in reality, should be referred to as a handwoven cane seat chair.
These primarily wooden furniture pieces with woven seats or backs are named after the pattern design and type of material used in the weaving, rather than the generic term, "wicker."
RELATED READING: Seatweaving #101
For the remainder of this woven wicker information resource page, we will concern ourselves with antique wicker furniture from the 1870s-1940s, made using primarily rattan reed and paper fibre.
Preserving and Caring for Antique Wicker Furniture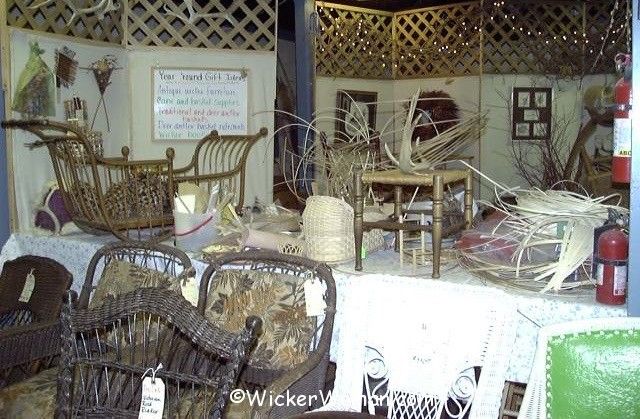 "Once Antique Wicker Is Gone, It's Gone Forever! You can't make an antique and if you try, it's simply a reproduction." The Wicker Woman®–Cathryn Peters
Try everything you can to care for wicker and preserve those fine antique pieces; repair, restore and refurbish.
Sometimes all you need is to paint your wicker furniture or to clean it up; treasure your family heirlooms and flea market finds!
And remember, you can't make another antique to take its place, a reproduction is just that, a reproduction.
For answers to your most pressing questions about wicker furniture care, how-to paint wicker, remove urine smell, or perhaps learn do-it-yourself repairs, check out the Wicker FAQ or Wicker Frequently Asked Questions page.
Find an Antique Wicker Furniture Repair Expert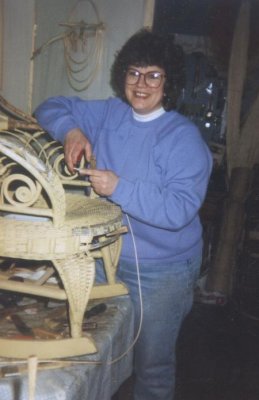 There are very few antique wicker repair experts left across the nation, so when you do find one, be prepared to go on a waiting list for the appointment.
To find out the quality of the work these experts perform, ask to see some recently completed pieces.
Most antique wicker furniture repair experts will have a few samples of their work or have customers' pieces with work in process that you can examine.
Or ask to see their "before and after" photo album, or ask to speak with some of their customers directly.
What Do Antique Wicker Repairs Cost?
Your restoration person will probably give you a repair cost estimate and an approximate time needed to complete to repair your antique wicker furniture for you.
It may take days or months to completely restore your wicker piece depending on the severity of the damage, shop scheduling, and other factors.
Ask for a receipt, a work order, or job order, something proving you left the item in their care. And also ask for an estimated time of completion and pickup.
Here are some step-by-step pictures on how-to repair wicker furniture, to give you an idea of the process.
If woodworking repairs must be done before the wicker repairs, many wicker restoration specialists or refinishers are also terrific woodworkers. Find your refinisher or woodworker here. National Furniture Repair Directory-Refinishing-Experts™
Or if they don't do woodworking, probably can point you to someone that does.
The same applies for painting wicker, some shop owners do their own, but many farm that expertise out.
Ask your repair expert who they use and recommend to paint their antique wicker furniture.
Determining Wicker Furniture Value~~Is It Worth Repairing?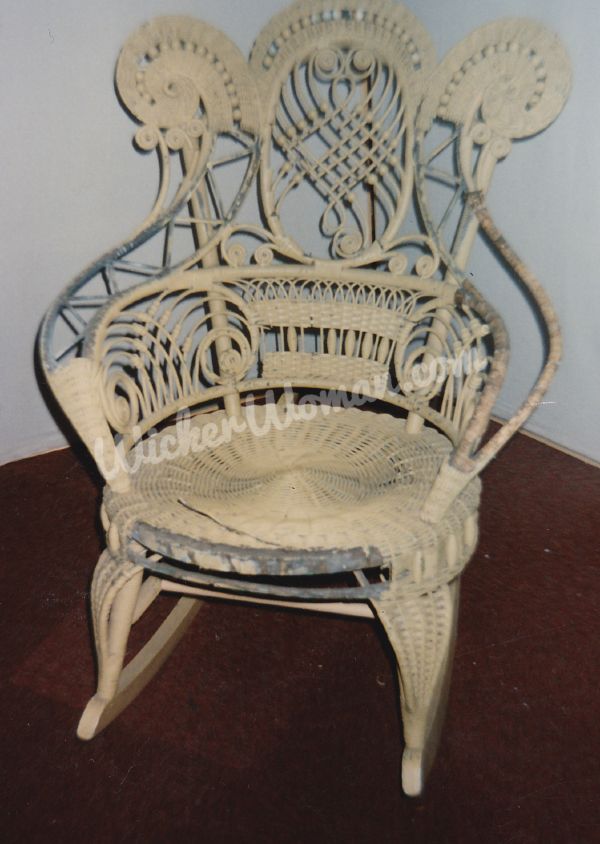 Sometimes the repair costs far outweigh the value of the wicker item and in that case, you must ask yourself if it's worth getting it repaired.
Do you want the repairs made to your antique wicker furniture because it's a precious family heirloom, does it have sentimental value?
Will the damage be paid by your insurance company, or are you getting it repaired for resale?
All these questions are valid and the answers will help make your decision clear.
If you want to make the repairs yourself and need the materials, instruction books and tools, get your cane & basket supplies here.
The Wicker Woman does not sell retail supplies so instead, provides these advertisers for your benefit.
Wicker Furniture Appraisal Service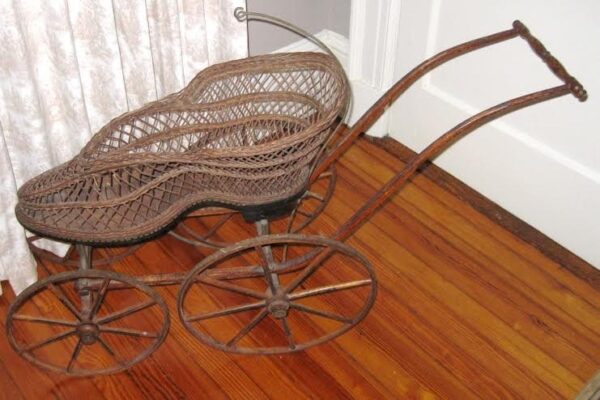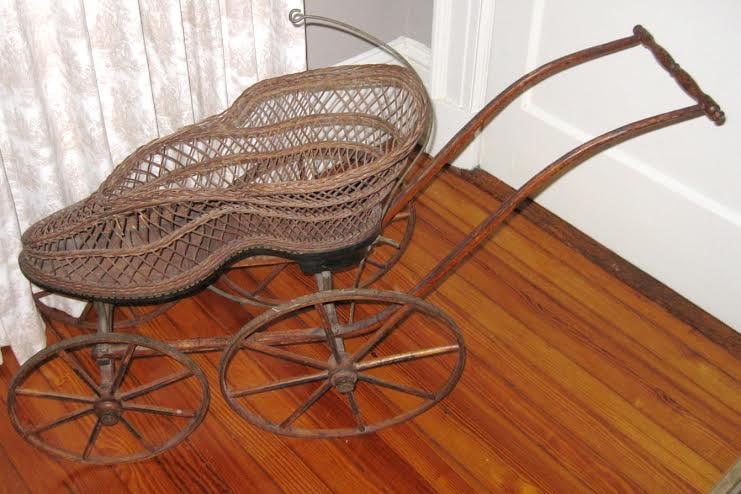 If your wicker repair shop does appraisals ask them what qualifications and certifications they have to back up this service. For a competent and valid appraisal, the person giving it should be a certified antique wicker appraiser.
Their certification proves that they have done the research, taken the classes, and passed all the tests, which also means they should be compensated monetarily for their expertise. Also, ask what you will get in return for paying for their appraisal.
Although I have been in the business of wicker restoration and sales since 1975, I am not certified to make appraisals on wicker furniture, and will not honor the requests at this time.
However, I highly recommend Richard Saunders as a certified antique wicker furniture appraiser. He's located in Savannah, Georgia and has been a certified wicker furniture appraiser since 1983. He's also written six books on the antique wicker furniture industry is advertising his services on my National Furniture Repair Directory™, Wicker Experts section.
For online appraisals or to do your own research, check out the websites I've listed on Wicker FAQ or do your own online research.

<–Back to: Articles, Tip Sheets, Reports
Next to–> Wicker Furniture FAQ