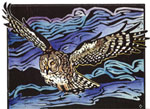 Great Gray Owl by Betsy Bowen, Grand Marais artist.
10TH ANNUAL SPRING BOREAL BIRDING & NORTHERN LANDSCAPES FESTIVAL
June 1 – 3, 2007 at North House Folk School in Grand Marais, MN.
Discovering the birds, wildflowers, geology and more of this dynamic and rich northern landscape is the focus of the festival. A series of inter-related, field-focused seminars (1-3 days in length) form the backbone of the event. Each seminar offers participants its own unique mixture of field trips, classroom discussions and afternoon workshops.
North House Folk School, home of the Boreal Birding and Northern Landscapes Festival, hosts the event to nurture hands-on exploration of the North. North House is located in Grand Marais, Minnesota, on the North Shore of Lake Superior, and in the midst of the Superior National Forest.
The Superior National Forest is composed of over three million acres and includes deciduous and conifer forest, bogs, streams, and lakes. Included within its borders is the Boundary Waters Canoe Area Wilderness.
The region was designated as a Globally Important Bird Area in 2001. A total of 155 birds breed within its boundaries – more species than in any other national forest.
Sign up for your "northern Minnesota birding" experience today! Click here for various course options and details: http://www.northhouse.org/courses/courses/coursesbytheme.cfm/tid/9