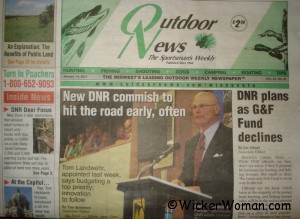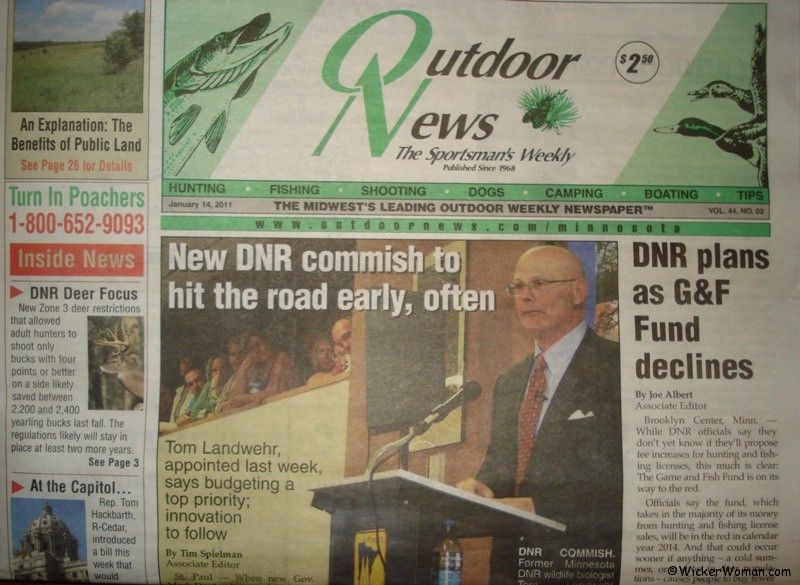 Famous Relatives–Imagine my surprise when I opened the January 14, 2011 issue of the Minnesota Outdoor News, The Sportsman's Weekly and saw an article about my second cousin, Rich Oxley, the book he's recently published, and his famous photographer family lineage!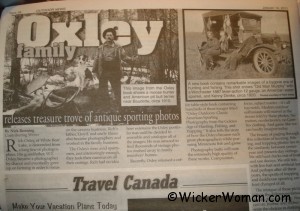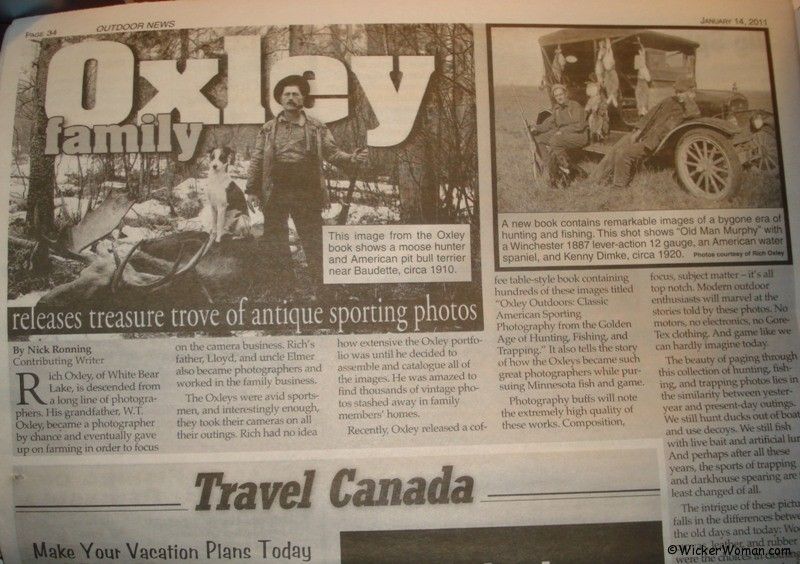 Rich has gone through the thousands of sporting photographs taken by his grandfather, father and uncle and complied them into a 200+ page coffee-table style book . The new book  details the family photography business work from the 1900s, highlighting primarily Minnesota sportsmen of the times called, "Oxley Outdoors: Classic American Sporting Phototgraphy from the God Age of Hunting , Fishing & Trapping."
Rich's grandfather, W.T. Oxley was an avid sportsmen and also took an interest in photography, quickly becoming very prolific. Shortly after the turn of the century in 1906 W.T.'s photography business really took off as he took pictures of families, tractors, cars, and for real estate companies.
W.T. Oxley was also the first photographer to take aerial photos of Fergus Falls and the state hospital and received many awards from the Minnesota Photographers Association.
Two of W.T.'s sons, Elmer and Lloyd, Rich's father, also were hunters and fisherman, eventually working in the family photography business. They took pictures of sportsmen and trappers getting ducks, deer, pheasants, prairie chickens, and fish of all kinds.
This book is of interest to sportsmen of all kinds and also history buffs, because these precious photos are of a time long since past. Times were very hard and of course there was no such thing as our modern-day technical hunting and fishing equipment like we have now to make the sport less harsh.
Travel was difficult both by car and by boat, extra-warm clothing for winter was hard to come by, to say nothing of having the luxury of using a GPS, insulated sleeping bags, heated tents and ice-shacks, battery operated warming socks, hand-warmers, television sets and DVRs that are available for today's sportsmen.
"Oxley Outdoors: Classic American Sporting Phototgraphy from the God Age of Hunting , Fishing & Trapping," by Rich Oxley is published by L&M Press, a Minnesota company and available online at http://www.VintageHuntingPhotos.com