The latest Wicker Woman's Weavings newsletter was sent on September 5th to 755 subscribers. It is also available for online viewing here, after Signing In using your Yahoo! Groups ID and Password to activate the site (you can also join the subscriber list here):
http://groups.yahoo.com/group/WickerWomansWeavings
JB-Designs Basketry was the Featured Business of the Month, three more FYI Tips posted, new Yahoo! Groups and websites in the Announcements, and reminder posts of upcoming events.
If you already received the newsletter by email, please disregard this reminder and thank you for reading. We'll chat again soon. Until then, here's wishing you all the best in your wicker world.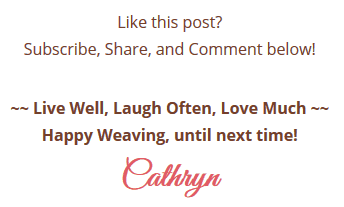 LIKE THIS POST? Subscribe to get updates!
Get access to all the weaving goodies!
Get on the Wicker Woman's Weavings list for valuable emails, blog post updates, events, hints & tips for your weaving delight!