The first Wicker Woman's Weavings ezine of 2006, powered by Yahoo! Groups, was sent out on the 24th of January. This begins the 7th year of consistant monthly online publication!
It highlighted V.I. Reed & Cane as the Featured Business of the Month, with three FYI tips on Wicker, Chair Seat Weaving and Basketry, along with the Announcements and upcoming Dates & Events calendar.
A few changes are taking place on the ezine as well as on my domain website, http://www.WickerWoman.com. One of which is that the Dates & Events Calendar on the ezine has been discontinued and placed on my domain site instead. And since there have been so few people participating in the Polls, I've decided to drop them for a while. Maybe we'll start them up again later in the spring or summer.
Join the over 820 subscribers to the only ezine of its kind on the Net! Stay up to date on all that's new in the world of wicker furniture, basketry and chair seat weaving.
Get the ezine delivered to your email box today, or read it directly online through the Yahoo! Groups website for Wicker Woman's Weavings at http://groups.yahoo.com/group/WickerWomansWeavings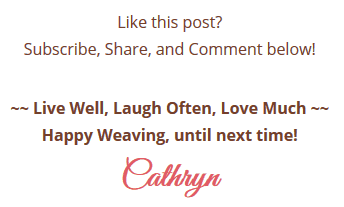 LIKE THIS POST? Subscribe to get updates!
Get access to all the weaving goodies!
Get on the Wicker Woman's Weavings list for valuable emails, blog post updates, events, hints & tips for your weaving delight!