In June of 2006, I traveled to England on a McKnight/Arrowhead Regional Arts Council Fellowship Grant and spent ten delightful days with my host and President of the Basketmakers' Association (BA) at the time, Olivia Elton Barratt.
She took me all over England to see how both bulrush and willow are grown, harvested, processed and used in weaving baskets and chair seats.
We even watched as a hot air balloon, capable of holding 12 people, was being woven out of skin-on rattan and as handwoven willow coffins were made at The Somerset Willow Company!
One day, Olivia was holding a regular weaving class at her home with two students. One of the gals was learning how to weave a bulrush chair seat and the other was weaving a dyed round reed basket.
Since I already knew how to weave rush seats and make round reed baskets, Olivia asked me if I'd like to learn how to weave a bulrush boater's hat. Of course, I agreed and had a wonderful time as she taught me how to weave this beautiful rush hat!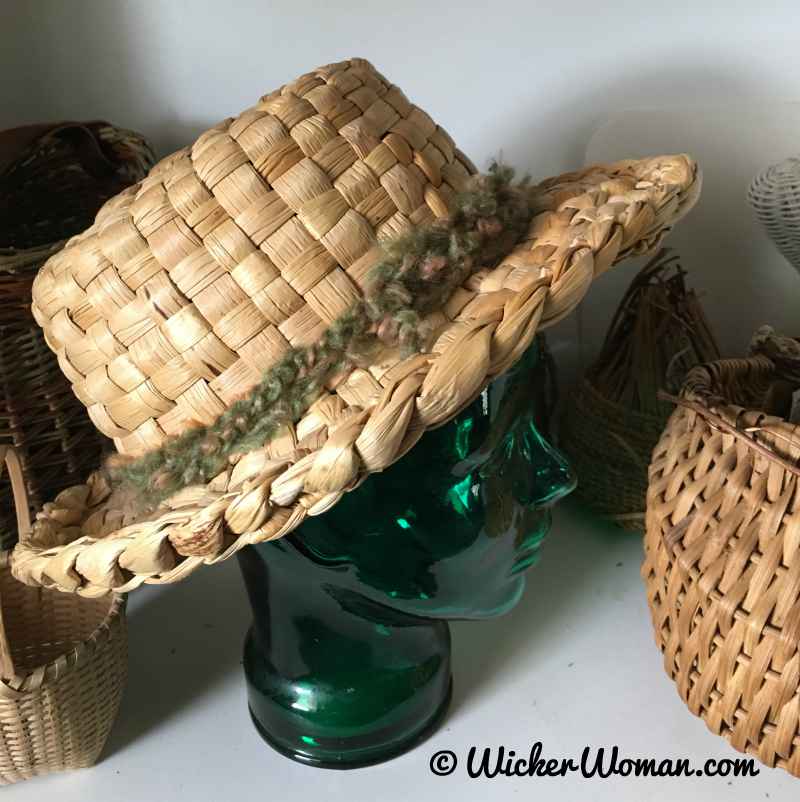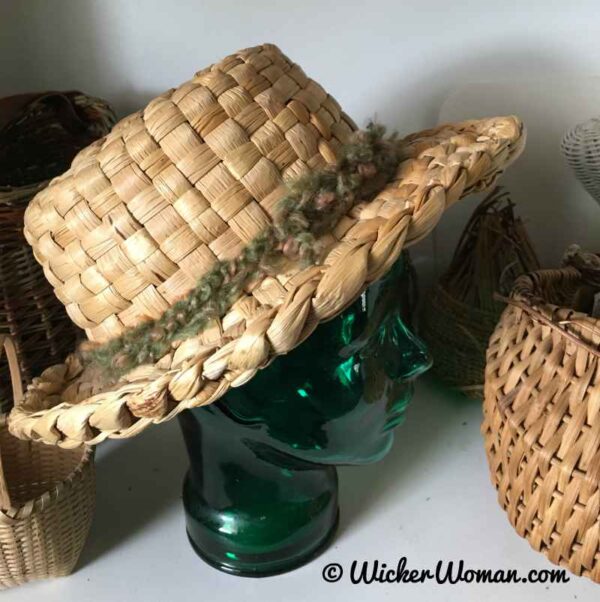 During the course of conversation, the topic of using a chair caning needle on hole-to-hole chair caning came up. I was lamenting about how difficult it was to use one on hole-to-hole because the needles were so stiff and not flexible enough to bend in the intricate and tight weave.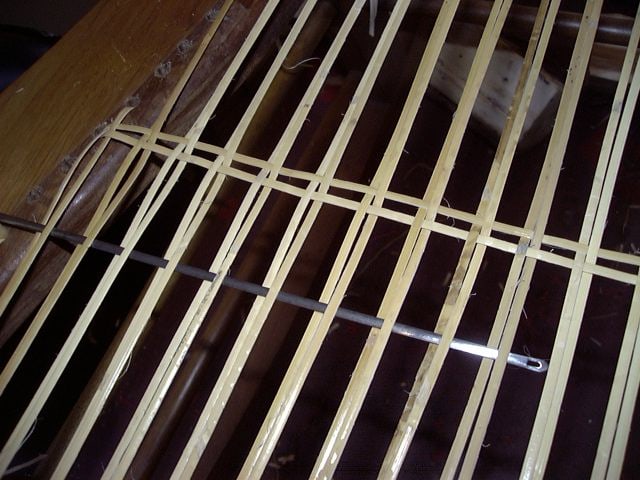 Olivia took out her caning needle for me to examine and I was surprised at how different the English and American caning needles are. Their caning needles look nothing like ours and as she explained, are very easy to work with.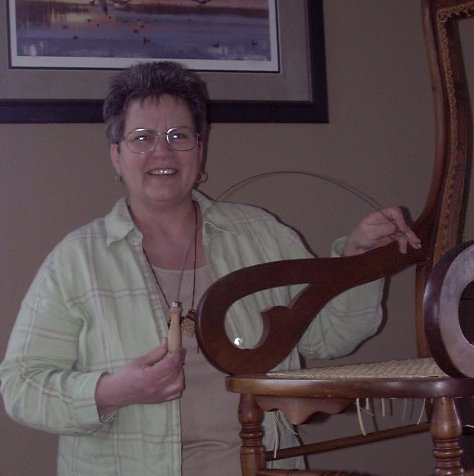 The English caning needles are made with a very fine, narrow metal that has a pointed (picket fence style) end with a rectangular hole in it (where you insert the end of a strand of cane to pull though the weave) and a wooden handle at the other end.
This needle is so fine and flexible that it can be manipulated well throughout the first four set-up stages of the traditional hand caning, leaving only the two diagonals and binder cord to weave without the tool.
Thank you, Olivia, for presenting me with such a valuable tool, thanks for enlightening me! Now, how are we going to get this tool over here in America?
UPDATE NOTICE: The English caning needles, or "steamers" as they are frequently called, are now available for purchase through cane and basket supplier, Peerless Rattan. These are slightly different than the one I got from Olivia, however, they still work just fine!
You can find Peerless Rattan's ad on my Cane & Basket Supplies Directory™, tell them I sent you, please!
I am working on a Lincoln rocker seat right now and have taken a few pictures using the caning needle and also one showing the flexibility of the English caning needle.
I will be switching to this tool for use on all my hole-to-hole caning, because it certainly does speed up the weaving process, and keep my old American caning needle to use for all the wide binding/porch cane weaving jobs.