Well, it's been lightly raining all day today, so this morning was spent surfing around on the Internet, specifically the various blogs that Google Friend Follow tool enabled me to do. Found some really great blogs to follow that I will post about on upcoming Monday Mentions here on my blog.
Also updated my personal Facebook and also the page I set up for my business, The Wicker Woman. Now it's time to get to work on the last of the three cane chairs I'm redoing for a customer.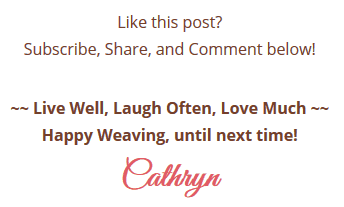 LIKE THIS POST? Subscribe to get updates!
Get access to all the weaving goodies!
Get on the Wicker Woman's Weavings list for valuable emails, blog post updates, events, hints & tips for your weaving delight!