Subscribers: Oops! For some weird reason Yahoo! Groups was hanging up when I tried to send the notice about the Ezine being sent out to the subscriber list. It ended up sending four copies to everyone,much to my chagrin and embarrassment. Like a good friend of mine said, "That sure is a good way to piss-off your subscribers!" Again, please accept my apologies everyone.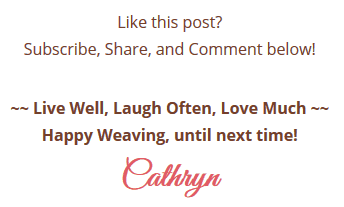 LIKE THIS POST? Subscribe to get updates!
Get access to all the weaving goodies!
Get on the Wicker Woman's Weavings list for valuable emails, blog post updates, events, hints & tips for your weaving delight!