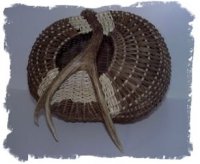 There are still some openings in two of my three antler basket classes that I will be teaching at the Silver Dollar City Basket Seminar and Workshop held in Branson, Missouri on May 15, 16 & 17, 2008.
The official registration deadline closing was April 1st, but if you move quickly you can still register for either my Antlers Sitting Pretty or All Closed Up Antler Basket classes.
Here are the links to read all about the classes, and the Silver Dollar City Homepage to request a catalog and register for classes.
Hope to see ya'll there soon! Please introduce yourself and let me know you visited my website!

Double Take Antler Melon Class is Full
Antlers Sitting Pretty, Basket Sculpture
All Closed Up! Antler Melon Basket