After a somewhat rocky transition from the old platform to the new platform on ipower.com, we launched the completely new redesign and upgrade of WickerWoman.com last week! It's the first time in about five years that the format of the site has changed and we're hoping you enjoy the changes!
It's much more "user friendly" with left-side navigation, context in the center and interesting ads, search feature and donations on the right.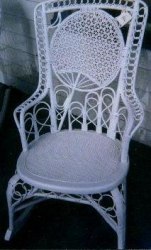 New logo, new expanded Resource Links pages and many new features; including new articles, with links from article to article and back to main article list, and the What's New? page is now set up as a blog page with space for comments!
Many of the old features that you've come to depend upon like the Cane & Basket Supplies page and the Furniture Repair Directory are still there, plus they too have been expanded and improved!
Check us out today and see what the new site can provided you in the way of service and information on chair caning, wicker repair, basketry and more!