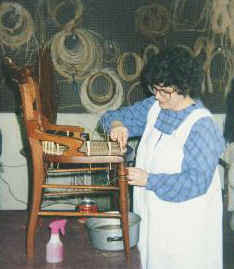 Join all the fun and merriment this weekend, Friday, February 22 and Saturday, February 23, 2008 in Beaver Bay, Minnesota at the 5th annual "Sugar on Snow" Colonial Williamsburg Winter Celebration!
All the action takes place in and around the Community Center in Beaver Bay, Minnesota along the North Shore of Lake Superior, north of Duluth and south of Grand Marais, from 12noon-8pm on Friday and 10am-4pm on Saturday.
The event name is taken from the New England tradition method of making maple syrup. The sap is heated and poured on snow outdoors, which forms into pure hard maple candy treats. Then everyone has a party to celebrate a job well done!
All demonstrations and events are recreated from the 1700s with a Colonial Kitchen and General Store–featuring candle making, soap making, apple cider pressing, corn husk doll demo, sauerkraut making, spinning, weaving, woodworker, chair caning, basketmaker, bee skep making, potter and hide tanning. Angora, MN craftsperson, Cathryn Peters will be demonstrating the chair caning, basketmaking and bee skep making both Saturday and Sunday.
Outdoor activities include: maple syrup making demonstration, dog sledding, tug-of-war, blacksmith, 2-man saw contest, and miller grinding grain. Come join the fun in a recreation of a traditional New England Winter Festival!