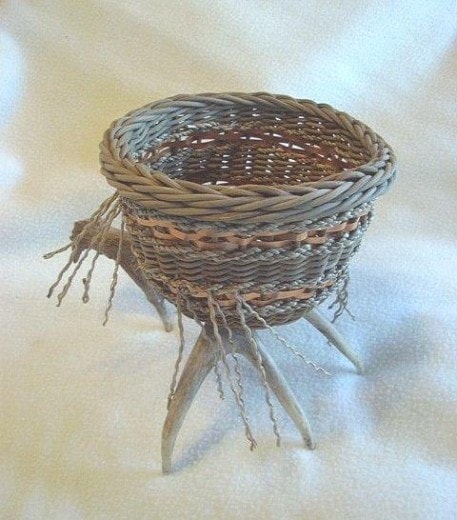 I was very pleased to hear that the Headwaters Basketmakers Guild in Bemidji, Minnesota chose my "Antlers Sitting Pretty" antler basket as the logo for the 13th Annual Headwaters Basketweavers Spring Workshop. It will be printed on the brochures, and on the t-shirts and sweatshirts that are available for purchase.
The workshop will be held at the Salolampi Finnish Village at Concordia Language Villages in Bemidji, MN on April 18th – 20th, 2008.
I will be teaching the antler basket class and two birch bark classes over the three-day workshop. Other teachers are: Janet Olney, Sandy Quint, and Tressa Sularz.
Brochures should be available soon. Contact: Eve Sumsky, 481 Lake Ave. NW, Tenstrike, MN 56683 or [email protected]
Hope to see you there for another great "Weekend of Chocolate and Weaving"!