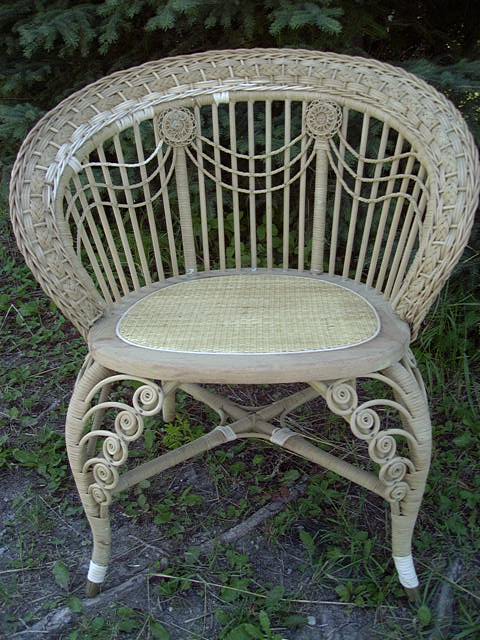 This wicker chair is listed in the book, Heywood Brothers and Wakefield Company Classic Wicker Furniture, The Complete 1898-1899 Illustrated Catalog.  It's on page 33 or [65 & 66] of the original catalog, as a Lady's Arm Chair, #6041 A.
Here are some of the many repairs made to this lovely wicker chair I did several years ago.  This chair had been painted somewhere along the line, so my customer took it to a furniture refinisher/stripper and had the paint removed before bringing it to me for the wicker repairs.
There were already broken areas on the piece before the stripping, but that process added a bit more work for me to do in order to restore this piece to almost the original condition.
The close-woven seat needed to be replaced, curlicues were broken and had to be replaced, spokes and braid in arms/back were broken, swag reed rope need replacing and minor leg wraps were done, too.
It has fancy braid work around the back, with reed rosettes and swag reed rope, many, many curlicues and a close-woven sheet cane seat. Simply a marvelous old piece and quite comfortable, too! Customer was going to do final stain and varnish finishing.