In this post, I am resurrecting a regular series I began in 2009, talking about one specific topic–Antique Wicker Furniture.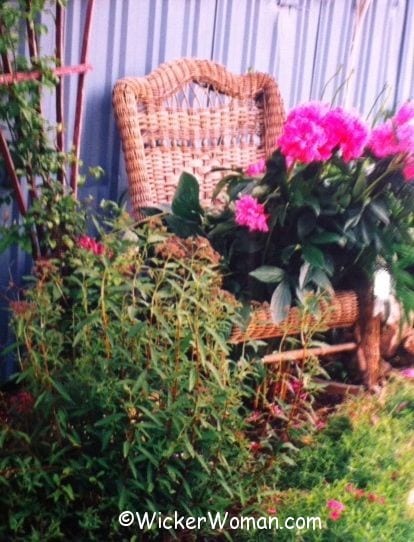 Wednesday seemed to be a good day of the week to focus on this topic and so began the Wednesday Wicker Wisdom series of posts.
Here are a few pictures showing some pieces from the various eras of the Wicker Furniture Industry that began right here in the United States. The three basic time periods are: The Victorian Era (1860s-1900s), Turn of the Century (1900s-1917) and the Machine Age (1917-1940s).






VICTORIAN WICKER 1860s-1900

The Victorian Wicker era is complete with elaborate ornamentation like curlicues and beads, complicated, handwoven caned back panels in fancy spider-web or Star of David weaves, finished off with close-woven solid sheet cane seats, so as not to detract from the fancy backs and arms. Many times the backs were also woven in intracate, special, stylized motifs like violins, moons, stars, fans, sailboats, and animals.
RELATED: Antique Wicker Furniture Motifs
TURN OF THE CENTURY–1900-1917s

The Turn of the Century era included the short-lived Art Nauveau, influence based on natural forms, characterized by flowing, wavelike lines. These pieces were all handmade, done with natural materials and lasted until shortly after the turn of the 18th century.
It also included the invention of the man-made twisted paper fibre of 1904, which became known as "paper wicker or paper fibre." Turn of the Century wicker was also made up of the Mission-style wicker introduced by Gustav Stickley, which had straight lines and open latticework, plain styles and designs.


MACHINE AGE–1917-1930s

During the Machine Age of the wicker furniture industry, came the invention of the mechanized Lloyd Loom which eliminated much of the manual workforce.
Paper rush or paper fibre wicker was now mass produced and included a wire core center for spoke support on backs and under arms, weaver strands were still used without the wire core. Upholstered backs and seat cushions were now the rage, eventually incorporating inner-spring seats.
At the tail end of the Machine Age was the Art Deco style, utilizing paper fibre rush characterized by fancywork of multi-colored diamond patterns woven into backs of chairs and settees. And stick wicker was also introduced with its simple designs using round, skin-on rattan poles.

RELATED: Paper Fibre Rush Wicker


If you'd like to read some of the
older Wednesday Wicker Wisdom posts
, you can use the Search box feature here at the top of the page, using the phrase,
Wednesday Wicker Wisdom
and you'll come up with quite a few. Or you could search through the Archives beginning with April 2009. Enjoy!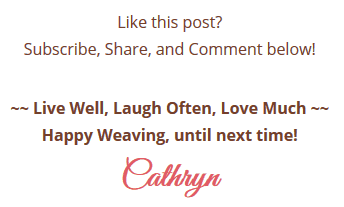 LIKE THIS POST? Subscribe to get updates!
Get access to all the weaving goodies!
Get on the Wicker Woman's Weavings list for valuable emails, blog post updates, events, hints & tips for your weaving delight!