Tuesday Tips—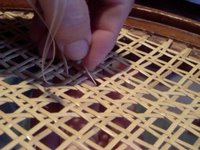 Join the Seatweaving & Chair Caning Forum–The Caner's Community Hub™ for a sense of belonging, friendship and sharing of information regarding all aspects of chair seat weaving and wicker repair.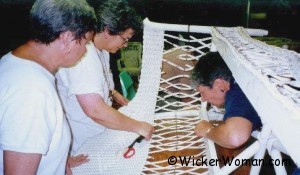 A day or so ago on the forum, chair caner Wesley Luckey from PA, mentioned that he first met me while taking my wicker furniture repair class at the John C. Campbell Folk School in Brasstown, NC way back in 2001, and wondered if I remembered that?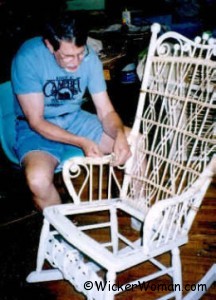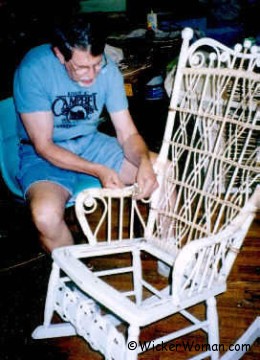 Actually, I had forgotten that the class had been that many years ago! Seems like it was only yesterday, but when I looked back on these pictures from the PictureTrail photo album, I was reminded that it was longer ago than just a few days! See all that dark brown hair on everyone?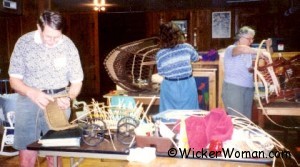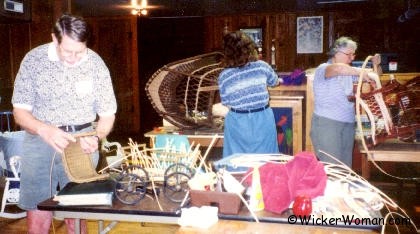 We all had a great time and almost everyone finished their rather difficult and ambitious repairs to their wicker furniture pieces during that week-long class. I think there were only two people that had ever woven before too, so that made their accomplishments in finishing the class even more impressive!
You might enjoy reading the very first post here on Weavin' Wicker Woman blog about the Seatweaving and Chair Caning Forum, written way back in July of 2004. Besides being the very first post about the chair caning forum, this post was almost debut post for this blog!
Seatweaving & Chair Caning Forum–The Caner's Community Hub™
Hope you've enjoyed these two chair caning and wicker repair "blasts from the past" and will share with your friends.