Did you miss the Handweavers Guild of America's (HGA) Small Expressions 2011 Award Winners, like I did when they were announced a while ago? Where was I, under a rock or what?
Well, in case you missed the announcement too, and surely you'll want to see who the big winners were, here they are:
First Place, Pamela MacGregor, McClure, Ohio
Second Place, Sidsel Moreb,Gainesville, Florida
Third Place, Jennifer Sargent,Memphis, Tennessee
Honorable Mention, Deborah Campbell, Ann Arbor, Michigan
HGA Award, Dorothy McGuinness, Everett, Washington
Complex Weaver Award, Jan Hewitt Towsley,West Henrietta, New York
Congratulations to everyone for their fine accomplishmentsin winning these prestigious awards from the Handweavers' Guild of America, Small Expressions 2011. See all their fabulous works here: http://www.weavespindye.org/pages/?p=small-expr11_awards.html&loc=1-112-00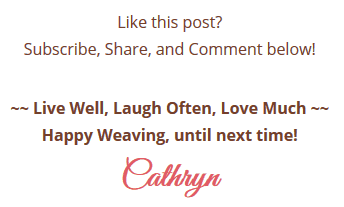 LIKE THIS POST? Subscribe to get updates!
Get access to all the weaving goodies!
Get on the Wicker Woman's Weavings list for valuable emails, blog post updates, events, hints & tips for your weaving delight!