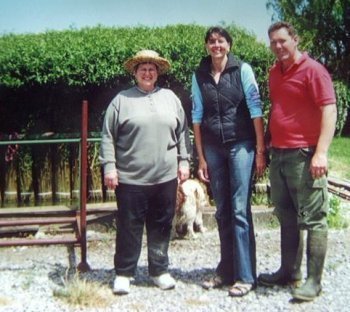 I am so delighted and excited to have found the blog for Musgrove Willows and I know you will love reading it too!
When I was over in England in 2006 on a Fellowship Grant to study willow basketmaking and rush chair seat weaving, Olivia Elton Barratt took me all over to visit the willow growers and basketmakers.
One of the highlights of our trip was to visit with Ellen Musgrove and her husband Michael on their farm located in the area of the Somerset levels in Westonzoyland, a southern willow growing area of the United Kingdom. It certainly was a fascinating experience, and I'm so happy to have met them both.
I was fortunate to buy some weaving tools and books about cultured basket willow growing also and had hoped to do some here in northern Minnesota, but I think the weather is too harsh for the basketmaking willows.
Michael and Ellen took time out of their busy schedule to show me around, explaining how the willows are grown, harvested, sorted and bundled for sale. And also how the willows are left out in the sun to bleach for the "white" willow market.
I took many pictures, including several depicting the process of making "buff" willow; boiling the willow with the skin or bark on, which darkens the color of the willow, and then showed me how the bark is removed. Hopefully, I will be able to post them here, maybe in a series of some sort.
Back in 2006, I don't believe Ellen was holding willow coffin weaving classes on the farm, but according to the recent blog posts, it's a very popular class there at Musgrove's now! What a wonderful place, hope to go back sometime soon. Until then… Happy Weaving, Musgrove's!