The February ezine, Wicker Woman's Weavings, was recently sent to 832 subscribers.
This issue highlights:
The Editor's Notes
Wicker Furniture FYI — Using the Correct Size Repair Materials
Seatweaving FYI– Untangling Hanks of Cane
Basketry FYI — 7MM Flat-Oval Reed
Featured Business of the month– Cane & Basket Supply Company
Announcements
On My Blog…
Reprint Permission
Go to http://groups.yahoo.com/group/WickerWomansWeavings/
if you want to subscribe so you don't miss all the great information published here every month!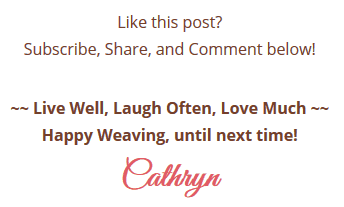 LIKE THIS POST? Subscribe to get updates!
Get access to all the weaving goodies!
Get on the Wicker Woman's Weavings list for valuable emails, blog post updates, events, hints & tips for your weaving delight!