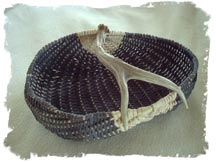 I think there still might be a spot or two left in my Deer Antler Basket Class that's being held at North House Folk School on the North Shore of Minnesota in Grand Marais. November 7 & 8, 2009.

The date is during deer hunting season in northern Minnesota so you "deer hunter widows" will have something productive to do with your time. And then you'll be able to weave up another antler basket at home if hubby will part with any of his antlers in the future.

We will be weaving our baskets in a two-day class so there's no pressure to finish quickly and the class is open to all levels. Prior experience weaving ribbed baskets is a plus, however!
Instructor will provide all materials, including pre-drilled antler, but you are encouraged to bring along any from home that you'd like help and advice on.
http://www.northhousefolkschool.com/classes/Basketry.htm