This year will be different and I will elaborate in future posts, but for now watch this enlightening video about changes that you too, might like to make during the coming year!
Thanks to my blogging friend Nancy Jacobs at Basketmaster's Weavings for posting this to her blog, where I saw it this morning.
1/13/12–WordPress is acting weird today, Friday the 13th, and removed the video I embedded in this post! Hope it sticks around long enough for you to see, cuz it's really worth it. Cathryn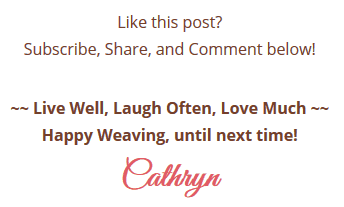 LIKE THIS POST? Subscribe to get updates!
Get access to all the weaving goodies!
Get on the Wicker Woman's Weavings list for valuable emails, blog post updates, events, hints & tips for your weaving delight!