Long road to a registered trademark name.
Since beginning my weaving business in 1975, the name has seen many changes over the years. At first, I was into antiques and crafts with a bit of chair caning and other seat weaving thrown in.
So, naming my business Cathryn's Country Stuff seemed pretty cool. And after all, it was during the 1970s when anything called "country" was really popular.
That name was appropriate for many years since I was into such a variety of "stuff". But it wasn't descriptive enough for the way the business was changing and evolving and it definitely didn't have any pizazz!
Branding? What's in a name, anyway?
So in 1991, I rebranded as The Wicker Woman to encompass all the seat weaving, wicker repair, and basketry I was now doing.
Everybody lumps all those weaving types into the word, "wicker" anyway. So it was perfect; just the right name that resonated with me and was certainly memorable!

Sprucing up the new wicker shop building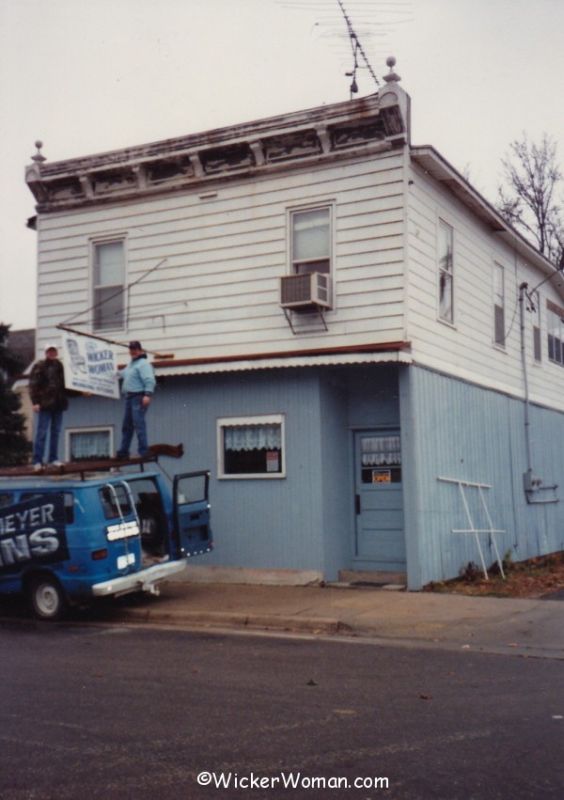 I contacted local sign painter Mike Meyer from Mazeppa, MN to make me a sign for the front of my newly leased shop in Zumbro Falls, Minnesota.
Mike designed a wonderful swirl font for the business name and added a picture of one of the latest wicker rockers that I had restored. Then he hung the new sign with my wicker rocker logo in front of the wicker shop and I was all set for business!

The Wicker Woman®–Registered Trademark Name

Now, eighteen years later, as of October 13, 2009 my business name The Wicker Woman gained official Federal Trademark status.
It's been legally filed and registered with the United States Patent and Trademark Office! Wahoo! Now I'm going to frame the certificate and hang it on my studio wall!
I'm so thrilled to finally BE officially The Wicker Woman®, no longer just (aka) "also known as" The Wicker Woman!