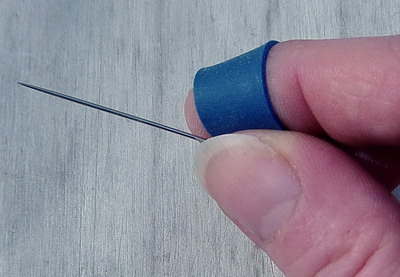 I'm not a very hot and heavy pine needle basketmaker, and don't do coiling much at all. But I do use the coiling basket technique with the sweetgrass I gather from my property, and also use coiling when creating my bee skeps (bee hives) for my classes.
So when I read in the March 16th issue of Weaver's Words and on the Pine Needle Group about Pamela Zimmerman's Needle Grabber(tm) finger protector, I was intrigued.
My index finger gets really sore from trying to push the needle through the sweetgrass, straw and cattail leaves I use with the bee skeps, so this rubber finger protector sounds like it will be just the clear ticket. It saves on the joints and also protects your finger pad.
Order yours from Pam today–you'll be glad you did!