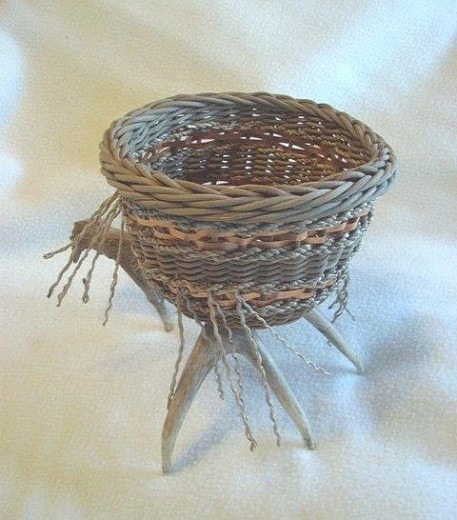 We've updated the Antler Basket Patterns page to include a new pattern for you to try out!
"Tines Sitting Pretty" is the newest of 17 antler basket patterns now offered for sale by antler basketmaker and instructor, Cathryn Peters.
This basket is woven directly into the top of the antler with the tines pointing downward and is meant to sit on a table or pedestal. The spokes and majority of the weavers are made using smoked round rattan reed with accent rows of copper strips.
"Tines Sitting Pretty" was the featured basket logo in 2008 for the Headwaters Basketmakers Guild Workshop, Weavin' Up North, appearing on sweatshirts, T-shirts, and all advertising brochures and catalogs.
I also taught this basket at one of the last Silver Dollar City Basket Seminars held in Branson, Missouri during the early 2000s.
Do you have some antlers from your hubby's hunting efforts last fall and early winter or antlers you've found at flea markets? Now might finally be the best time to try your hand at creating some fantastic antler baskets of your own.
Having experience in weaving rib baskets is a plus, as is weaving with round reed. There are some relatively simple advanced beginner antler basket patterns available if you don't feel all that confident in weaving the more difficult types.
Check out all the antler basket patterns today and get the jump on next year's housewarming, birthday, corporate or Christmas gifts! Let me know how things turn out and send some pictures that I can post here on the blog, too!