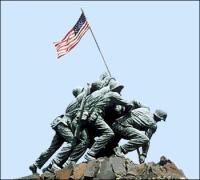 How will you be honoring and paying tribute to all the fallen military servicemen and servicewomen on this special day? My family is going to watch the city parade and attend the service here in Cook, MN.
Four members of my immediate family all served in the military and have passed over now. Although their deaths were not service related, they all served their country proudly and are remembered for their dedication.
Excerpts taken from: http://www.usmemorialday.org/backgrnd.html

"Traditional observance of Memorial day has diminished over the years. Many Americans nowadays have forgotten the meaning and traditions of Memorial Day. At many cemeteries, the graves of the fallen are increasingly ignored, neglected. Most people no longer remember the proper flag etiquette for the day. While there are towns and cities that still hold Memorial Day parades, many have not held a parade in decades. Some people think the day is for honoring any and all dead, and not just those fallen in service to our country."
"To help re-educate and remind Americans of the true meaning of Memorial Day, the "National Moment of Remembrance" resolution was passed on Dec 2000 which asks that at 3 p.m. local time, for all Americans "To voluntarily and informally observe in their own way a Moment of remembrance and respect, pausing from whatever they are doing for a moment of silence or listening to 'Taps."
~~ Live Well, Laugh Often, Love Much ~~
Happy Weaving!
Like this post? Share with your friends
and leave a Comment below!