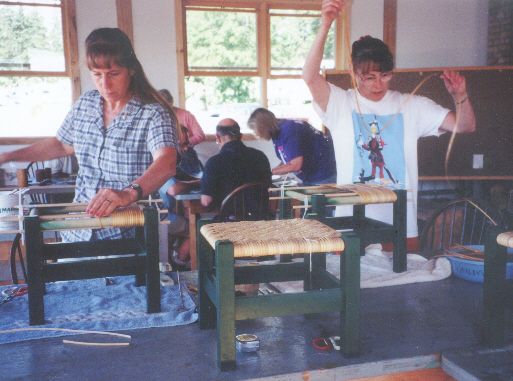 Very often I'm asked by viewers of my domain website, WickerWoman.com, just where they can go to take basket weaving and seat weaving classes offered by folk schools.
So here's a list I compiled of some of my favorite folk schools for you to investigate. Some are very old and been around for over 50 years and some are relatively new on the scene, but all are well respected and utterly wonderful!
Sign up soon to partake in week-long or weekend classes, then get back to me with what you discovered! And if you've already experienced some of these folk schools, be sure to leave your comments after this post!
Of course there are more, but this should whet your appetite and give you a good start on your weaving education. Enjoy!
Three Sisters Folk Art School, Chillicothe, IL — (new name!) Heirloom Folk Art School
John C. Campbell Folk School, Brasstown, NC — http://FolkSchool.org
Eureka Springs Art School, Eureka Springs, AR — http://www.ESArtSchool.com
North House Folk School — Grand Marais, MN — http://NorthHouse.org
Country Workshops, Marshall, NC — http://www.CountryWorkshops.org
Fletcher Farm School, Ludlow, VT — http://FletcherFarm.com
Poplar Grove Plantation, Wilmington, NC — http://PoplarGrove.com
Peters Valley Craft Center, Layton, NJ — http://www.PVCrafts.org
The Ozark Folk Center State Park, Mountain View, AR – http://www.OzarkFolkCenter.com
Arrowmont School of Arts and Crafts, Gatlinburg, TN — http://arrowmont.org