Well, after working on changing host companies for my domain, it's finally happening! So today marks the first day I've been out of touch with everyone by email. The new host tells me that sometimes the transaction goes smoothly and you're up and running again within 48 hours, other times it takes as long as a week! Yikes! In the meantime, you can go to the site and see what's new and browse around a while……Being without email for a week is like cutting off my right arm! Talk to you later when my email's back up and running!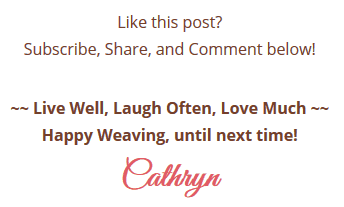 LIKE THIS POST? Subscribe to get updates!
Get access to all the weaving goodies!
Get on the Wicker Woman's Weavings list for valuable emails, blog post updates, events, hints & tips for your weaving delight!