Ely, MN — Bare Bones Studio, an Ely mainstay and magnet for rustic furniture buyers and "earthy", "nature-based" art collectors will be hosting an ART SHOW & SALE of the work from several represented artists on August 5, 2005 from 4 p.m. – 8 p.m. at the Sheridan Street studio.
Featured Guest Artists for the evening are painter Brent Spink and acrylic painter Cecilia Rolando, both Ely residents. Brent was born in Minnesota, educated in Michigan and now finds himself back in Minnesota, enjoying life in Ely. "My paintings are the vehicle for translating what I see and how I see it. Looking and then telling the story is why I paint," states Spink. Cecilia Rolando is an Ely native and colorist, exploring inner meanings through her acrylic paintings.
Please come meet the two Featured Guest Artists as well as the other diverse artists; Laura Ahola-Young presenting her oil paintings, Susan Replogle and her handmade paper and gourds, and Angora resident and antler basketmaker, The Wicker Woman-Cathryn Peters. Join us for refreshing art and artful refreshments.
For further information contact Ellen Cashman, Bare Bones Studio, 206 E. Sheridan Street, Ely, MN, 55731 or call 218-365-5575 or visit on the web at www.barebonesely.com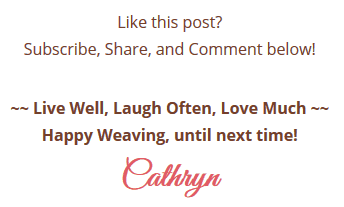 LIKE THIS POST? Subscribe to get updates!
Get access to all the weaving goodies!
Get on the Wicker Woman's Weavings list for valuable emails, blog post updates, events, hints & tips for your weaving delight!