Yesterday was such a beautiful day that I got up and went for a power walk right away, bright and early in the morning. Now, I'm calling my walk a "power" walk because it took all the power I could muster to get out there again and do something about the extra weight I've put on over the winter!
Like I said, it was a beautiful morning and the birds were chirping to beat the band. Sun was shining and the temperature was pleasantly warm, but not too hot and the wind was slightly blowing, so it all made the deed exciting and the time spent was very worthwhile in the long run.
I had heard on the weather report that we were in for more rain that evening, so I took out the trusty gas push mower and took a stab at beating down the lawn that had grown to about a foot in the last couple weeks.
You see, I missed getting out and mowing the lawn when the sun was out last week, had too many other things that also needed my attention, so I put it off for another day. Well, when another day came, it was raining and raining and raining and proceeded to rain for the next three or four days. Thankfully, one of our really nice neighbors swung by with his riding lawn mower and finished the job up right!
So, by the time I got our large yard mowed and was also done with the power walk, I had put on more miles on my little feet than they'd seen in years! Also forgot to stretch before and after my walk (or the mowing), so come this morning, I could hardly get out of bed. And it was raining yet again…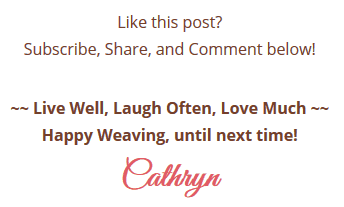 LIKE THIS POST? Subscribe to get updates!
Get access to all the weaving goodies!
Get on the Wicker Woman's Weavings list for valuable emails, blog post updates, events, hints & tips for your weaving delight!