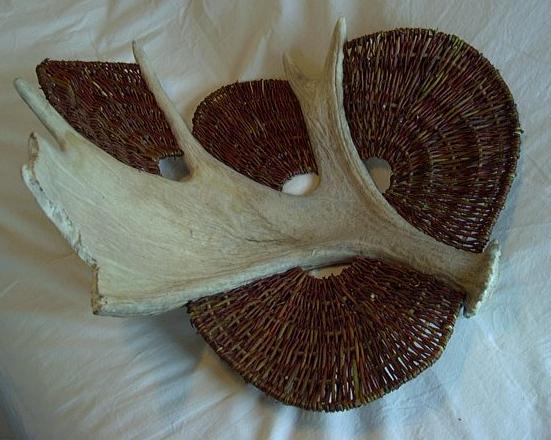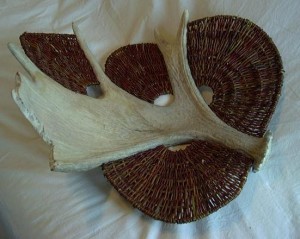 Lene from Willows blog at  http://salix-willows.blogspot.com/ just asked me if I ever use willow to weave with in my antler basket sculptures.
The answer is a resounding "yes." I gather wild willow along with red dogwood and a number of different naturals from our 120 acre place in northeastern Minnesota to use in my antler baskets.
What we have up here is a proliferation of  diamond willow and other wild willows. Some are good for basketweaving, but many are not. I've not been too successful at cutting the willows, drying them out and then reusing them later after mellowing for days, either.
It seems the bark has a tendancy to come off and the osiers don't get supple enough to make the sharp turns on my ribbed antler baskets without breaking. I have had pretty good success though in weaving traditional stake and strand wild willow baskets, but not so much with the ribbed antler basket style.
If any of you readers have had experience in weaving rib baskets using willow, I would appreciate hearing from you! Please leave your thoughts and suggestions below in the Comment area.
Hope you all enjoyed this sample of my antler basket sculptures woven using wild willow, diamond willow shoots and red dogwood osiers. Visit my PictureTrail.com/wickerwoman photo album to see more.