I almost forgot to post today! And really do want to continue to make daily posts during the month of November since I've signed up and pledged to do that through National Blog Posting Month at http://www.nablopomo.com/
But with all I had going on today, here it is 11:36 pm and I'm just getting around to posting! Whew! My day started out just fine with the exception of a light patter of rain. But this was the day that we scheduled Dish Network to come out and move our TV dish from a pole in the yard, to the top of our garage, so I could watch TV in my new studio!
All went well however and now I have the luxury of weaving my antler baskets for the galleries and custom orders while watching my favorite soap operas and dramas! That might turn out to be a bad thing though, and I will need to monitor my TV watching habits to make sure it doesn't overtake me.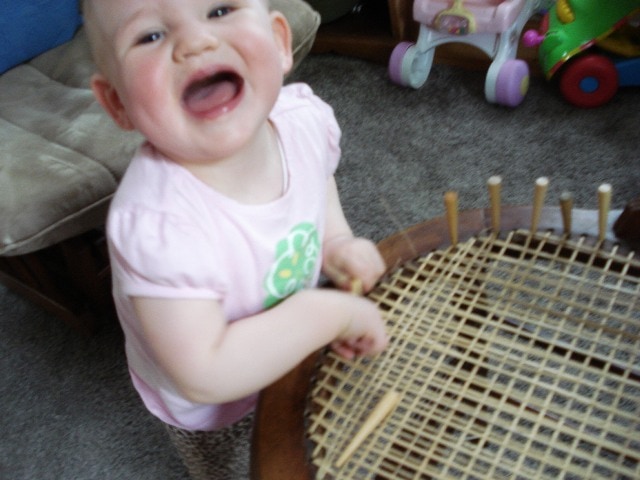 I have deliberately kept the TV out of my work area for many years, because I noticed my production slowing waaaay down when I watched too much! Used to have the television in my studio in Zumbro Falls, Minnesota for a year or so when I first started leasing the building, but had to take it out so I was more productive. We'll see if I've improved in my will over the years as I've aged–stay tuned.
I have several chair caning projects for customers in the works, but will need to take the weekend off, since our son and two-year old grandson are up visiting this weekend. Daddy is going deer hunting with Papa, so maybe I can keep Johnny entertained by baking cookies or perhaps teaching him how to weave chair seats, ya' think?
My granddaughter thought it was a lot of fun, helping Nanny Granny work on her cane chairs, hope Johnny follows suit!