Do you cane chairs for a living or hobby? Anxious to join a guild, but have never heard of a Chair Seat Weaver's Guild? Well, now's your chance to get in on the ground floor helping to establish and organize just such a group!
A few months ago, Mindy King from Ohio remarked on the Seatweaving Forum that she'd like to see a guild start up so we could all band together to meet, share weaving techniques and to perpetuate this nearly lost art form.
Well, one thing after another fell into place for our very first meeting to set up the North American Chair Weavers Guild (it's possible that the name might change, but it's what we're calling ourselves for now). Mindy's arranged the venue to hold the meeting so we can write the constitution, elect officers, establish goals for the group and plan our first real "conference," "workshop" or "convention " for 2008!
The meeting will be held in Nelsonville, OH on July 13, 14 & 15, 2007 at Robbins Crossing, a recreation 1800s village in Nelsonville on the campus of Hocking College, about 60 miles from Columbus.
Pre-registration is required, space is limited, and registration closes July 1, 2007. Contact Mindy King for registration packet and hotel/camping information or to let her know if you want to be a member of the guild, but can't make this first organizational meeting.
Bring your organizational skills, your CPA, accounting, tax or office expertise and help us establish the very first chair seating guild in America! (that we know of, anyway).
We appreciate any and all help to further advertise and promote this very unique group! Cane & Basket Supply Companies might want to consider sponsorship to help promote this group and to glean more advertising for your own business, too! Thanks to everyone that has taken us so far already!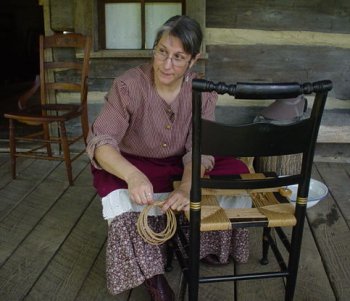 Mindy King
PO Box 138
Guysville, OH 45735
(740)662-2001
[email protected]