In honor of the upcoming Thanksgiving holiday next week and for all you fellow basketweavers, here's my version of a woven rattan reed cornucopia horn of plenty. It's a contemporary deer antler basket sculpture called "Hunter's Cornucopia" that I made in 1993.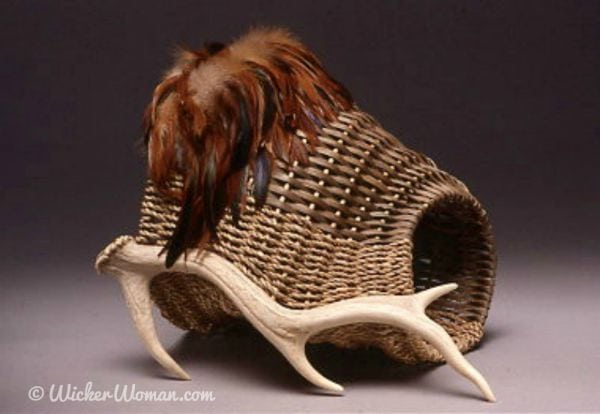 I made it using a shed fallow deer antler spike, with natural and hand-dyed rattan reed, Oriental seagrass, and Asian cock feathers from a feather duster! Cool, huh? Although I don't have the pattern for this exact basket, if you'd like to make some others yourself, check out my Antler Basket Pattern page to make some early Christmas presents.
I'm thankful, thankful, thankful that you are reading my blog and that we are enjoying all of God's many blessings. Hope you all have a beautiful and joyous Thanksgiving Day with family and friends. May your day be overflowing with love and laughter and throughout the rest of the year!