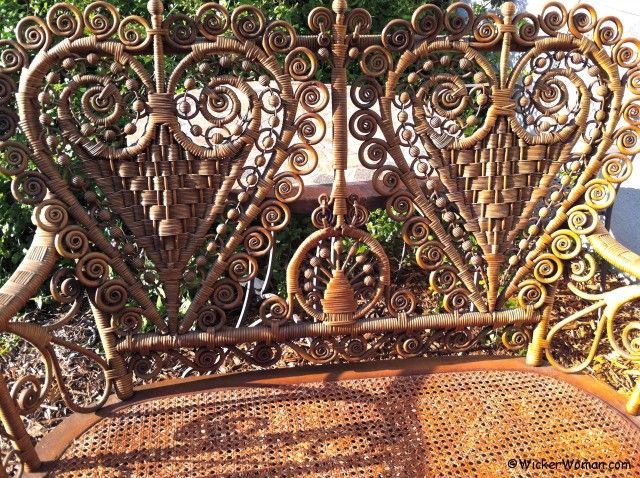 It is with a very sad heart (no pun intended), that I give you an update on the genuine antique Victorian wicker heart shaped set I posted about back in February.
It was a three piece set, which included a settee, a woman's chair and the companion gentleman's chair that I posted about, but there's so much to tell, I will do it in several installments, OK?
Here's the original post:
Victorian heart-shaped wicker Friday feature
And here's the background information that never made it into the post:
Neil and Patty Norman from central Florida had contacted me through my wicker and chair caning column at AllExperts.com (*update-closed 2017) about an old wicker set they just purchased for $20!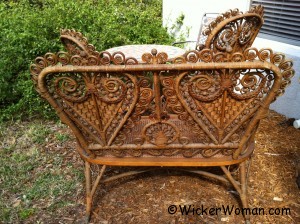 Patty later mentioned that she and Neil were big-time bargain hunters although, they had just started collecting a few months before. They were trying to raise money for a family reunion cruise for Patty's mom who was turning 80. They had three months to raise the $1,200 and were well on their way to achieving their goal, when they stumbled on this wicker set.
Neil wanted to paint it white right away, thinking it would sell better that way, but Patty wanted to consult someone to establish a value first. She thought the pieces might be antique and command a high price.
So here's where I come in…through my column on AllExperts.com (* update-closed 2017) and all the pictures Patty sent, I was excited to see what I thought was an original, antique, Victorian wicker heart-shaped set.
It looked to be from either the Heywood Brothers, Wakefield Rattan Company or from the later merged (1897) companies of the Heywood Brothers and Wakefield Company, commonly known as Heywood-Wakefield wicker.
Hate to leave you hangin,' but watch for the next week's installment of Wednesday Wicker Wisdom to find out more…