WEDNESDAY WICKER WISDOM–Sad to report, but this will be the final post about the lovely Victorian Heart Shaped Wicker Set that I've shared with you here on the blog…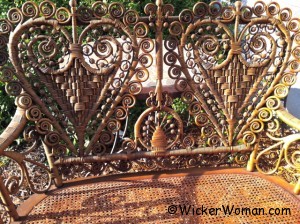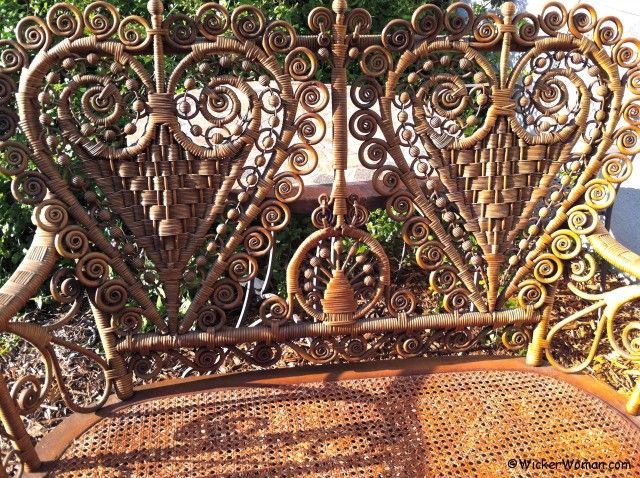 Bargain hunter Patty made some more phone calls to local area antique dealers in central Florida and had finally located someone that was knowledgeable about antique wicker. So she and hubby Neil, loaded up the truck and secured the wicker set and they were off.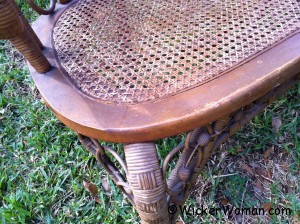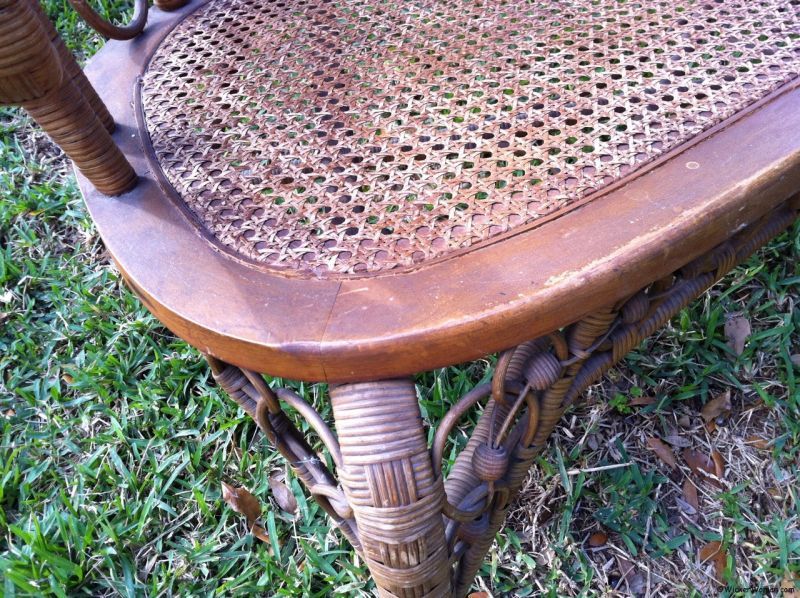 Then on the way over to the antique dealer's it began to storm heavily with high winds and driving rain. And although the Normans thought they tied down all the wicker, to their horror and disbelieve they watched as the wicker flew out of the truck bed and slammed on the pavement behind them in the middle of the highway!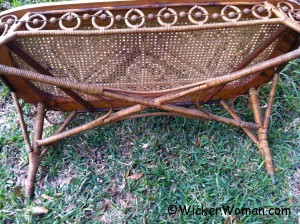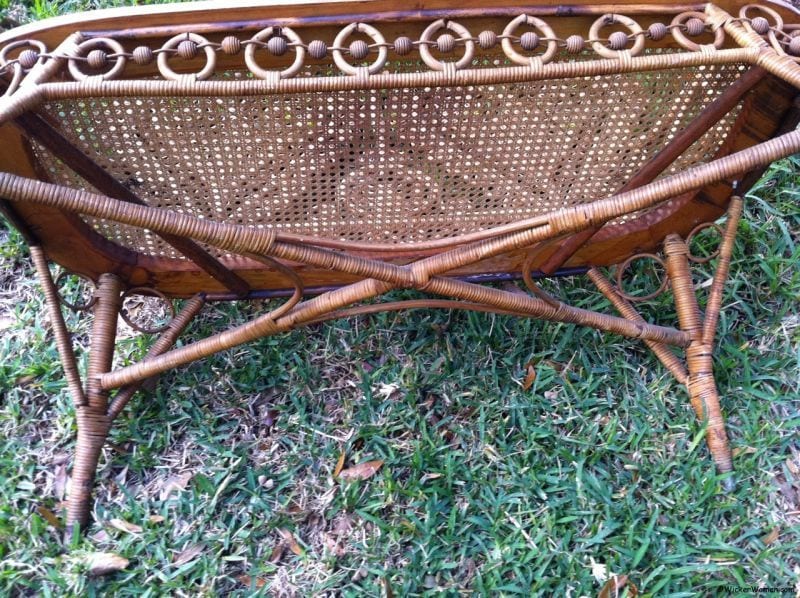 Thankfully, their flying wicker furniture didn't cause an accident or hurt anyone. Neil retrieved the badly battered settee and they repacked everything and continued on their way to the dealer.  But their hopes were dashed when the dealer said he thought the set was damaged far too much to be salvaged and then sold to make a profit.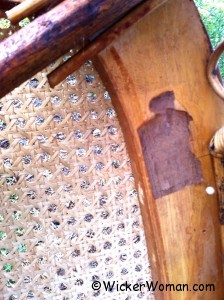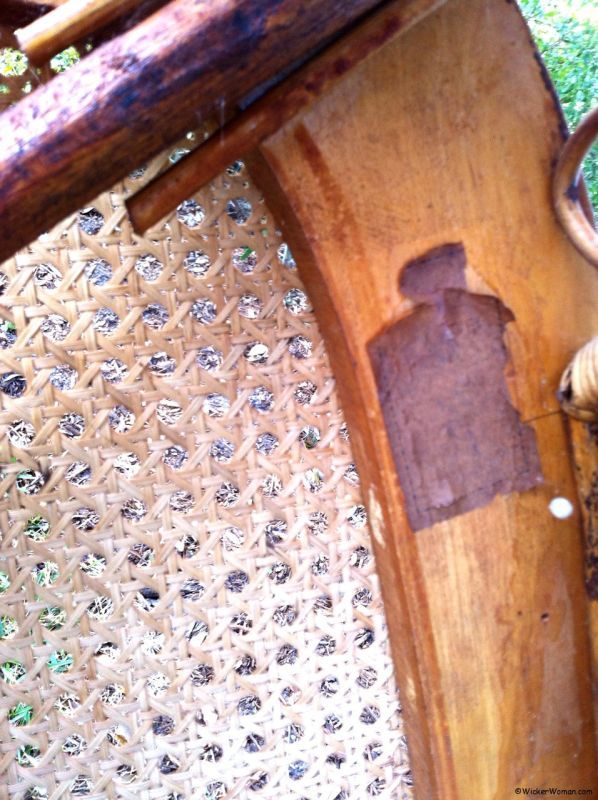 So, Patty contacted a few antique dealers and wicker repair folks again to see if anyone would want the set, but could find no one interested even at the $20 price they paid for it. How sad is that?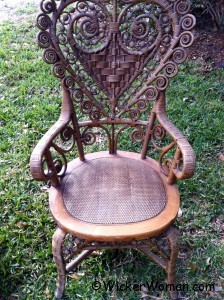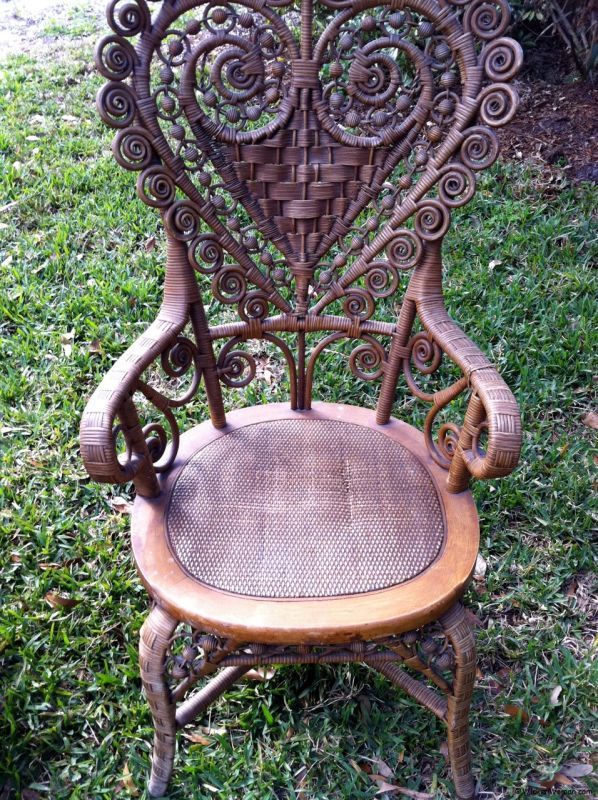 I would have taken the damaged set in a heart beat (pun intended),  if for no other reason than to disassemble it to use the parts on other pieces of wicker furniture to be repaired. Wouldn't the backs of those pieces make beautiful wall sculptures or even a headboard for a bed, or decoration in a frilly bathroom or bedroom? Or, the chairs could also be used outside in a garden as a plant holder!
Here's the final closing shot from Patty's email, "So there is the short version of the Wakefield or Heywood wicker we found by accident and we lost by accident as well!"
Well, this saga took place several months ago now and Patty and Neil have probably thrown the set out, but let me know if you'd like it and I'll contact them again and see what the outcome of this wonderful antique wicker set.
How would you repurpose this damaged antique wicker set if it could no longer be used as intended? Please leave your comments below.
Here's the previous post for the curious or in case you missed it–
https://www.wickerwoman.com/victorian-heart-shaped-wicker-set-part-3.html